This week's challenge is from
Gaby
who says
"Grow one vegetable. You can actually just buy a bag of soil, lay it down, cut it open, and plant seeds in it. No green thumb necessary!"
With hints of warmer temperatures and flowers beginning to bloom, I think it's a perfect activity.
This week plant a vegetable or herb. And then, tell us what you decided to grow and where (your yard, a container, a pot on the window sill, etc.).
Or ...

If you are a gardening guru and plant veggies each year, please offer us any tips, ideas and advice. We'd like to know if you plant in containers or till the soil ... how do you fertilize your garden ... and what about keeping pests away. We want to know it all!
I love the challenge being hosted by
Reduce Footprints
this week. Last year was the first year I attempted to grow any vegetables. I just used pots on my deck because I didn't know how good I would be about keeping up with the vegetables and didn't want to go to the trouble of creating a spot in the yard and then not following through. I did really well last year and the husband loved having a steady supply of tomatoes (the only thing I grew) so we cleared a spot last fall in hopes of have a garden this year.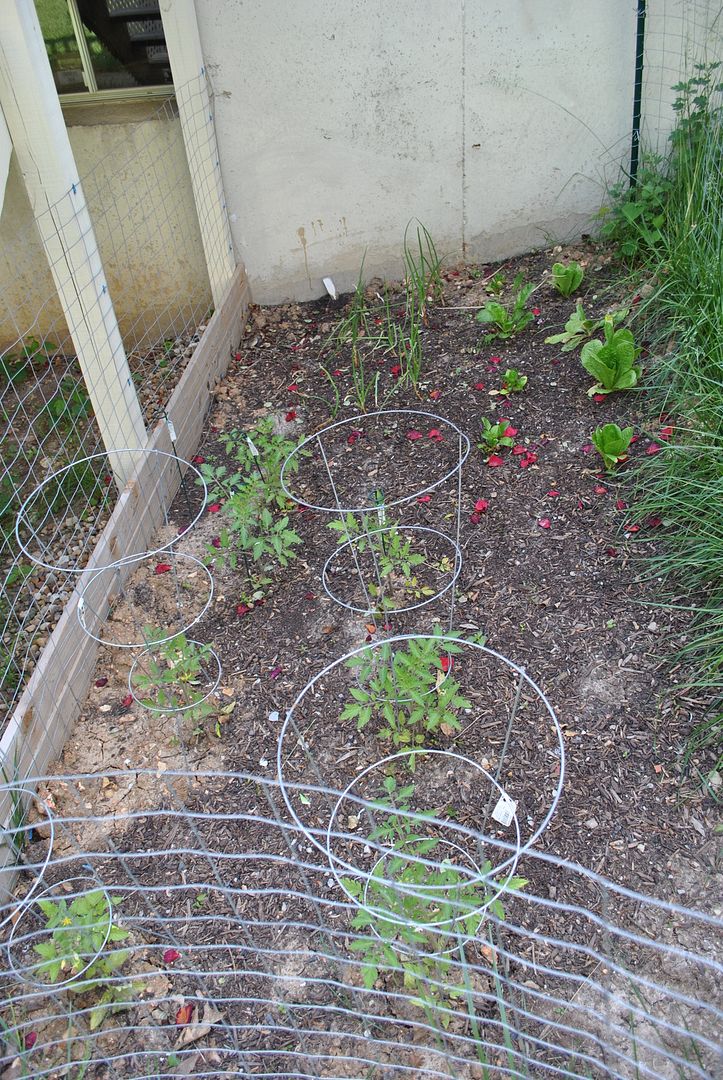 Tomatoes, lettuce, spinach, and onions
Earlier this month, due to the unseasonable warm temps we have had, I went ahead and planted everything outside. I planted tomato's, lettuce, spinach, and onions. I accidentally bought too much lettuce and the onions was a huge bunch, I ended up running out of room in the garden. Luckily all the pots I had used last year were still on the deck. Now those pots are all full of lettuce and onions. One pot has a tomato plant in it that was given to me a couple of weeks ago. Two pots have strawberries. I had attempted the strawberries last year and gave it up for a lost cause but they came back!
I don't really know what I'm doing and I don't know how much time I'll have to tend to the garden but I'm excited about it. We didn't do anything special when creating the plot. We just took up the grass, built the enclosure, and put some extra soil/dirt we had on top. When I planted each plant I made the hole bigger than it needed to be and added in organic manure we bought at the store. I have been working on composting but, well, that isn't going too well as I don't have any yet.
Lettuce and onions...2 strawberry plants thrown in
Oh..and we had to enclose the plot because our subdivision backs up to a state park and the deer love to hang out in the yard. I'm hoping they don't jump the fence.
While the focus is on vegetables, I wanted to show off my fruits. Three years ago my sister gave me 2 very small cuttings from her blackberry bush. I planted them along the fence that encloses our pool and I believe that year I had 5 pieces of fruit total. I figured it would take awhile to really get a good crop though. Last year it took off and I had a lot of fruit. I made blackberry desserts, ate a lot, and froze the rest. In fact, I just used the last of the frozen blackberries in my smoothie yesterday (I make a smoothie for breakfast 1-2 times a week). From the picture, you can see that it is huge this year! The husband wants me to cut it back and I keep telling him I will after it fruits as that's the right time. However I don't want to. I like that it offers privacy for when we use the pool and love that it costs me absolutely nothing to maintane (except watering it sometimes) and gives me a ton of fruit I would otherwise buy as organic.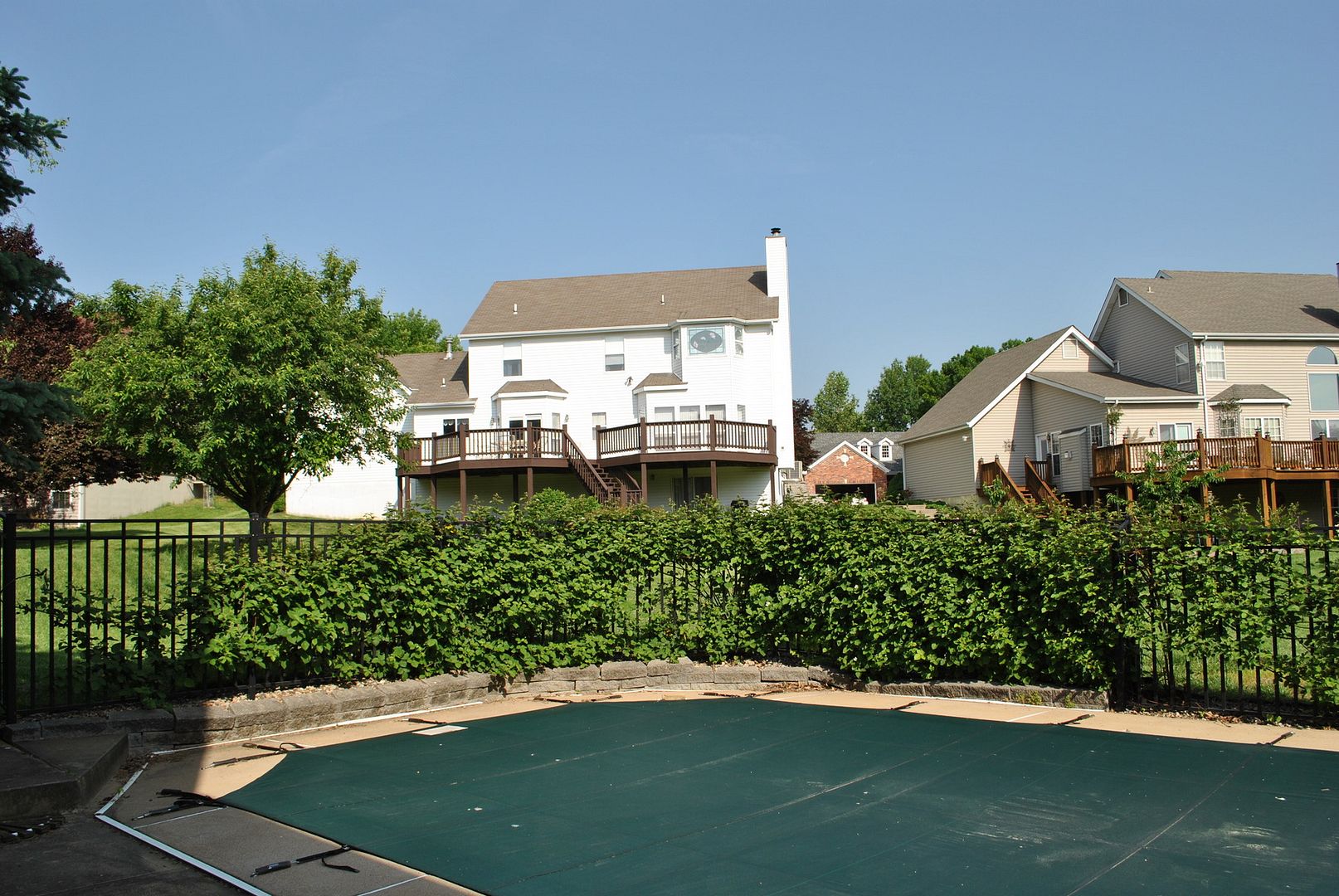 Blackberries!!!!!
The two plants with tags are the blueberry plants
the one outside the fence is the raspberry
Since Husband has seen the benefits of having the blackberry bush, we planted other fruit bushes this year. We planted two blueberry bushes and one raspberry. The Raspberry bush is planted along the pool fence on the other side. The hope is that eventually it will do just as good and the two plants combined will provide all the privacy we need while using the pool as well as keep costs down as far as buying all the fruit for desserts and smoothies year round. The two blueberry bushes are actually planted in the landscaping inside the pool area. We needed to get two more plants to finish the landscaping and thought..why not something useful. I buy blueberries for my smoothies as well so it was a logical choice