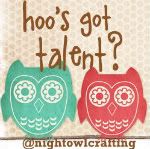 *Link-up your post not your main URL to this party, then PLEASE include a link back to this page.
*Make sure your link is to your specific post and not your main URL.
*No Etsy pages or business websites please.
*Include a short description of your project and the name
of your blog in your link up.
* Visit at least 2 other blog links and show them some love!
*Grab the party-link button on the side bar so others can join thePARTY!!
I've been wanting to join in on this one for awhile, but didn't have anything to post or was never prepared to post anything. This week..I'm prepared!!!
I decided that Myla's eating area needed to be spruced up a bit. I was thinking of doing something with vinyl wall art, but not sure what. Then I found chalkboard vinyl and I knew I had to play with it. This is what happened.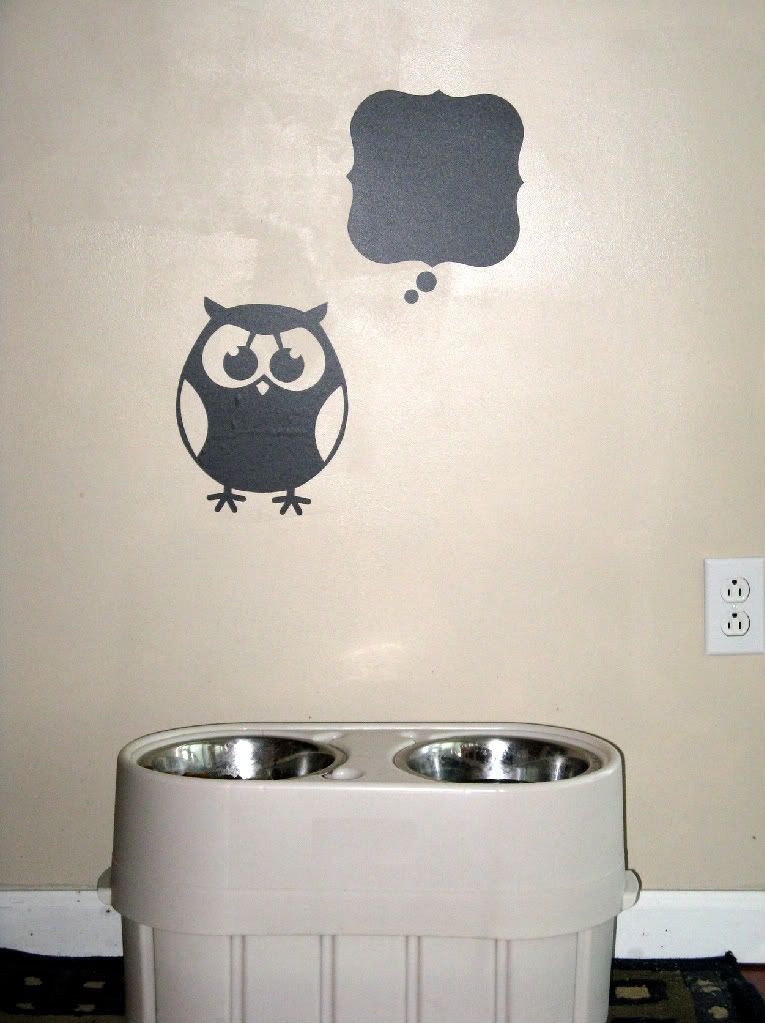 I had some chalk, but when I was at a local craft store I asked if they had chalk markers and was rewarded. This is what happened when I got home. Whenever I tell somebody that it says Bone Appetite instead of Bon Appetite, Husband rolls his eyes. I think it's cute. I think I'm a dork.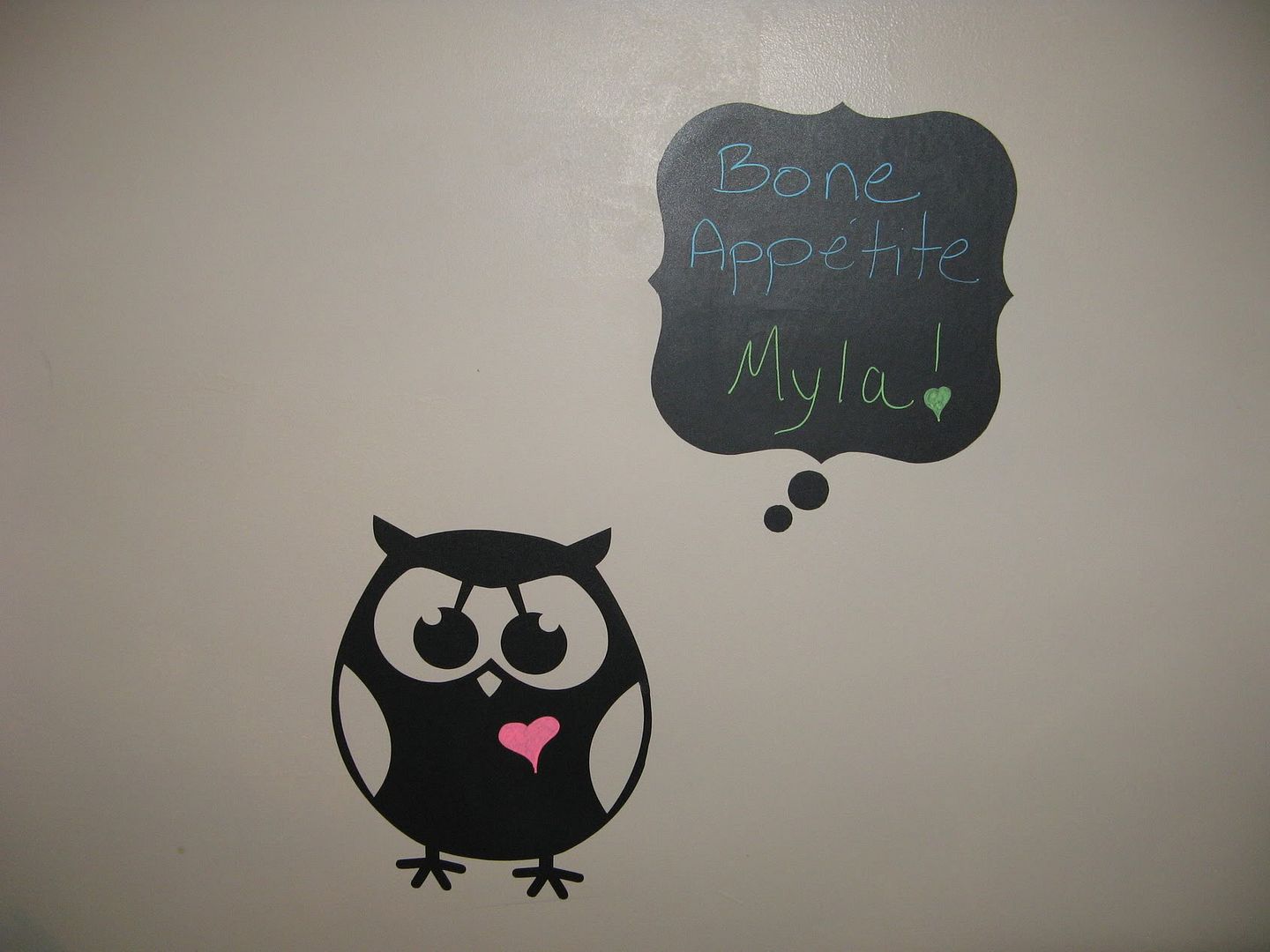 Myla has decided she really doesn't care about the decorations (she just wants a place where there is food and fresh water), but if it pleases Mom, then they can stay.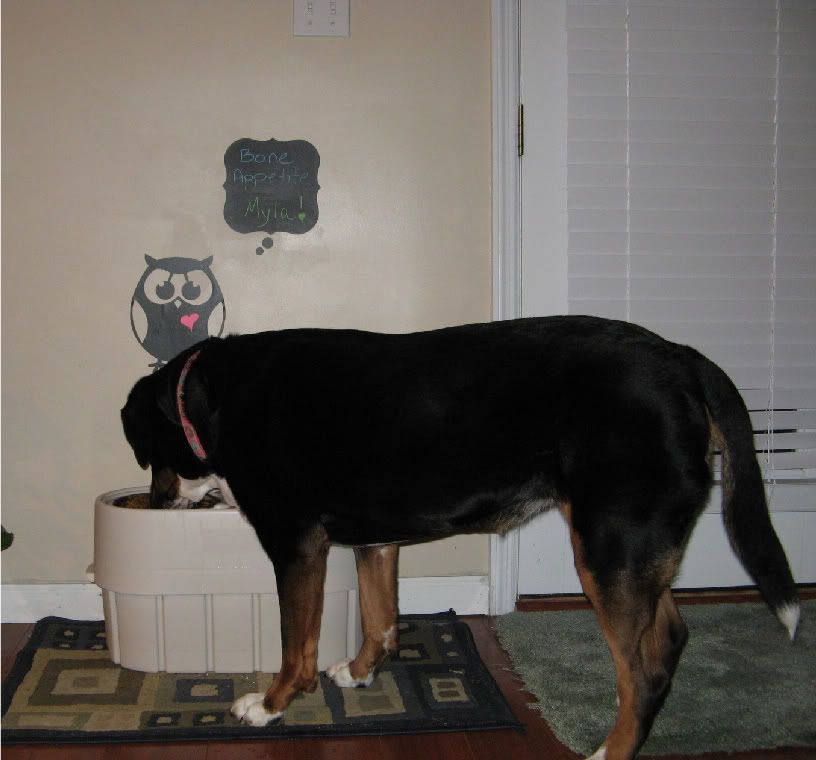 This was my first attempt at playing with vinyl and it was a lot easier than I expected. I purchased the chalkboard vinyl from Stampin' Up. I own a silhouette machine so I already had a way to cut it. I am in love with owls, so I already had the owl die cut and had the thought bubble too.
I first cut out the shapes on regular paper and hung them up so I could see if I liked the size and the owl. I actually attempted two different owls but this was my favorite. This was as big as I could go to, the paper is only as wide as the owl is.
I then followed directions on Silhoutte's website on how to cut vinyl and a cut out a small bird first to test. It worked well, and now is attached to my office door. Then I cut the owl and the thought bubble. I really didn't have any problems with this project at all. I'm actually surprised at how smooth it went. I have more of the chalkboard vinyl still to use, but haven't decided what to do with it yet. I can't do any more as big as those, but I can do a lot of small ones.
I'm thinking of cutting out birds in different sizes and putting them on the wall that we pass through when going from kitchen to family room, as a kinda of birds in flight design. However I haven't decided if I want to do that with chalkboard or buy different colored vinyl to use.