In January when I did a
Change the World Wednesday
post regarding
laundry practices
I mentioned clothes lines. Due to my allergies I'm unable to dry clothes outside. However, it struck me that I could hang a clothes line inside. It took me awhile, but I finally did it! I felt I would share how it works.
I'm lucky enough to have a laundry room on the main floor of the house (we have a ranch). Even luckier is that there is a lot of storage in there. On one side are open shelves and the previous owner attached gizmo's to it that allow me to hang up hangers. They fold up so they are out of the way, and I only have them down when in use. I use this every week when I do laundry. It's an easy way to hang up pants and shirts that come out of the drier still a bit wet or that don't go in the dryer at all (mostly my running clothes).
However, I still wanted to hang up a clothes line so I could hang up socks, towels, etc that were still wet when coming out of the dryer. The dryer is old, left by the previous owners, and while it does a good job it often times doesn't dry all the clothes when only one run. I found myself running a lot of loads through twice.
I hung up two different clothes lines. one is under the open shelving. I liked this because it would be out of the way. I hung up another one in front of the cabinets that hang over the washer and dryer. I originally liked this idea but wasn't going to put it here because then it would be in the way when I tried to open a cabinet door. However, I soon realized that I could hang the clothes line in such a way that they wouldn't always have to be hung. This way I could have a clothes line in front of the cabinet doors, but it wouldn't always have to be there so it wouldn't cause problems.
The only thing I bought for this laundry room addition was the clothes line, it cost less than $3. I looked in our supply of nails, etc and found some hooks. Luckily there were 4 matching sized ones. I then got to work. Installing both these lines took me less than 30 min. I used a drill to drill the holes in the wall. I roughly measured but mostly just eye-balled it. It's not something that anybody is going to be paying attention to. I then used, well, I don't remember what they are called. They are the plastic pieces you hammer into drywall so you can then put screws in them. So I hammered those in place. The four hooks I had then screwed into each one of those. I then tied the clothes line onto each hook. That's it! Now, I did go back and tie a washer onto one end of each of the clothes line. This allows me to easily hook/unhook each clothes line without having to loosen the knot.
Here's a picture of the laundry room with the clothes lines and the extra gizmo's to hang up clothes. (Just ignore the mess. lol! It's a laundry room afterall...the door is always closed)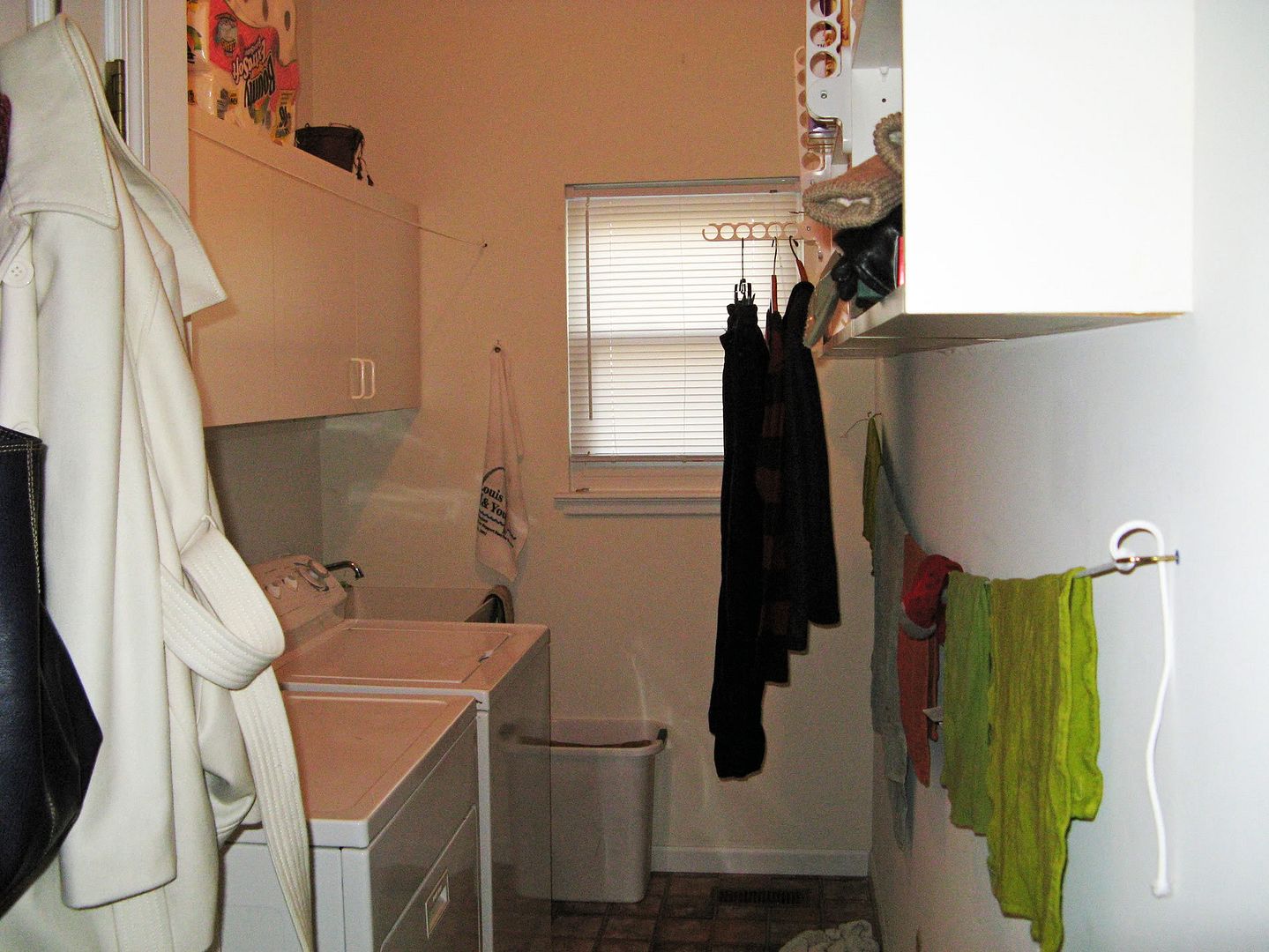 Here's the same photo but with everything circled so you can see it better.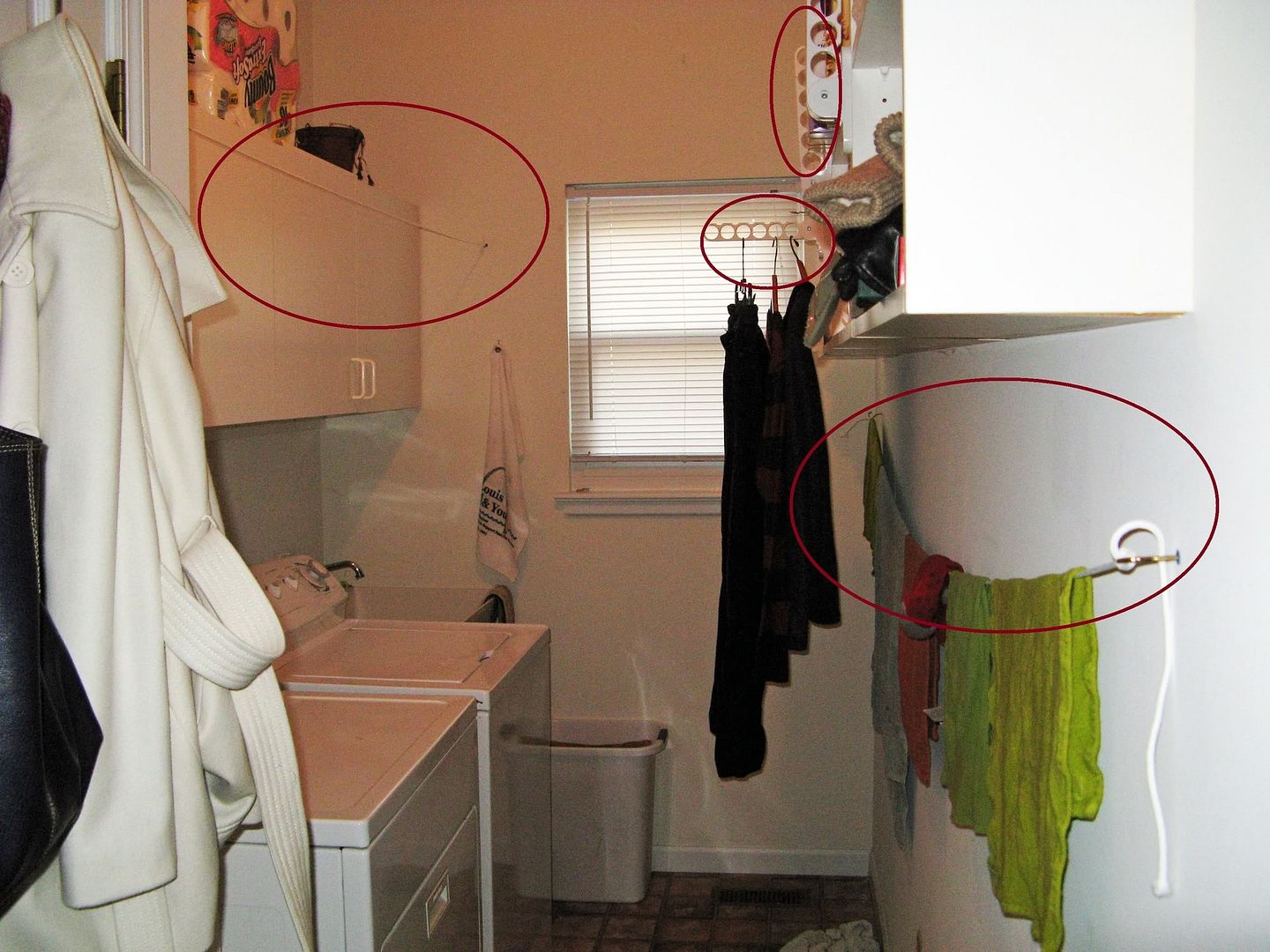 I've been using these clothes lines for several weeks now and I'm very happy with them. Husband is a bit worried that I'll cause mold to grow on the wall since I'm hanging wet items next to the wall (in regards to the clothes line that's under the open shelves). So I try to just hang stuff there that doesn't really touch the wall or that's not very wet. I've used the one above the washer and dryer to hang up all sorts of things ranging from light socks to heavy towels.
So far I haven't used the clothes lines to hang stuff up instead of putting them in the dryer and I'm not sure I will. However, I have not put anything through the dryer twice since installing these. I usually do roughly 4-5 loads of laundry a week and I was having to put at least 3 loads through the dryer twice. Now I don't have to and it makes me feel better knowing I'm not wasting resources.
You might wonder why we have 4-6 loads of laundry for only two people. It seems crazy to me. I usually have roughly 2 loads of darks in the winter..thanks to jeans and sweaters and 1 load of medium colors. That's 3 right there. I then have a load of towels, bed sheets, and rags. Then I have a load of running clothes, due to needing special detergent I do all the running stuff by themselves. It's a small load but I wait until I've used all the available running clothes for the weather we are having. I then do a load of socks/undershirts roughly ever 2-3 weeks. Sometimes I'll add this to the towel load but if I forget then I end up having to do it by itself since it gets so full.