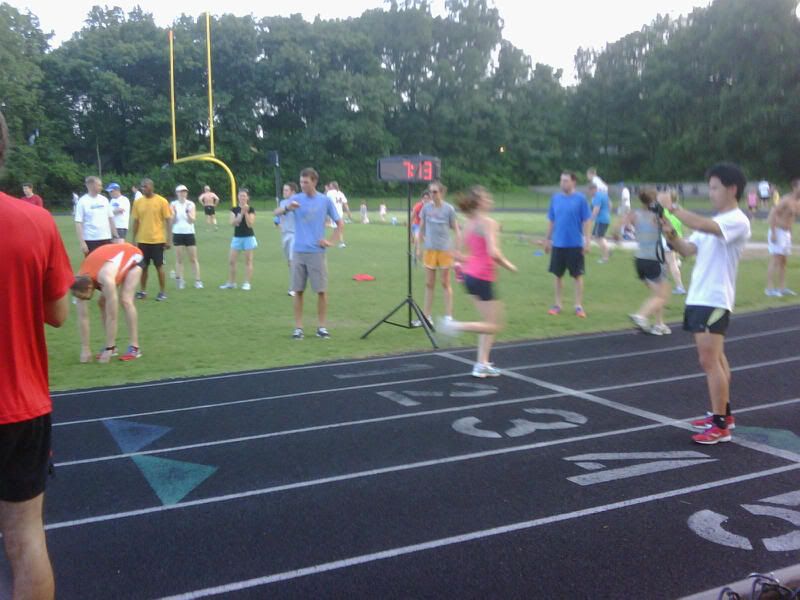 Okay, so I'm NOT faster than a speeding bullet. But I'm SO fast that I'm blurry in the above picture. Okay, so while I'm blurry it's not because I'm so fast but because it was taken with Husband's cell phone and therefore not a good camera. Yes, that's me in the pink top crossing the finish line.
This photo was taken last night at my Tuesday speedwork session. Yes..I'm taking speedwork sessions for the summer to improve my pace. As my husband would say: you're weird. Yesterday's workout was one mile timed. It's not your goal race pace, it's not your current pace. It's one mile as fast as you can do it. If you can see it in the picture above, I crossed the line at 7:13. While I'm sure that's not the fastest I've ever run a mile ( I do believe I completed a 5k race in highschool in 21 something) but it's the fastest I've ever run a mile as an adult. It felt AWESOME. Ok, so I felt horrible running because I was really pushing myself, but once I finished I felt awesome. If I did it again. I'm sure I could do it even faster, now that I've finished I feel like I could have surged sooner at the last lap.
Husband and Myla decided to go with me last night since it was only one mile. The speedwork sessions are being held at a local highschool and we pulled into the parking area and Husband says "What are all these cars doing here?" To which I responded, "uh..speedwork session." He made the comment that he didn't expect so many people. After a slight pause I said "What? You thought it would be me and 10 other people?" and I laughed because I thought I was making a joke. He said he thought there would be 20. haha!
After I did my run we watched the two faster groups do their runs. I'm not sure Husband wanted to stay but Myla was having a good time and I wanted to see how fast the other runners could go. When we got back in the car to head home, Husband got in the car, closed the door and said "You runners are weird."
Well..I have to agree, we are a special group.
Today is National Running Day. While I didn't get in a run today (spin class this morning) I at least celebrated by getting in this post. Happy running!