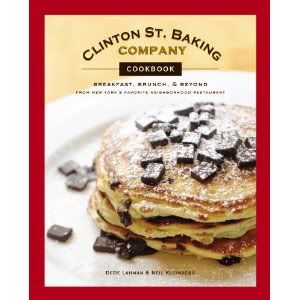 I mentioned
before
that there are basically two cookbooks I own for baking and that's because so far they are the only ones I've felt worth it. Clinton St. Baking Company is a heck of a cookbook. The recipes are all from the
cafe
of the same name that can be found in New York. I can't tell you how much I hope to eat there one day.
I wanted to share their recipe for brownies. Hopefully you'll make them and this will entice you to pick up a copy of the book, if you do I don't think you'll be disappointed.
The brownies are super easy to make and taste wonderful. I personally have all the ingredients in my house most of the time so it's not something where a special trip to the store is required. psst..I've posted the
Flourless Chocolate cake
recipe on my other blog in the past, this one has become a favorite dessert for my husband. He rates it as the best dessert he's ever had. I'm not as huge a fan but admit it's good. I actually prefer these brownies. Oh, and as I'm typing this Husband is going through the recipe book picking out the next item for me to make. He's mentioned 3 so far. haha!
Brownies
Ingredients
2 1/2 cups semi-sweet chocolate chunks (I just use a bag of chocolate chips)
2 cups sugar
2 sticks unsalted butter, cubed
5 large eggs
1/2 tsp vanilla extract
2 cups flour
1/2 tsp baking powder
1/2 tsp salt
Preheat oven to 350 F. if using a convection oven, set it at 325. Lightly grease a 9x12 pan, line with parchment paper to prevent sticking and grease paper (I just spray the pan).
Melt the chocolate, sugar, and butter together in a microwave-safe bowl in the microwave on high heat. stir at 1-minute intervals. The total time to melt this mixture will be 2 1/2 - 3 minutes. Or melt the mixture in the stainless-steel bowl of a double boiler. Let cool.
Whisk the eggs and vanilla extract into the warm chocolate mixture.
Sift the dry ingredients into a separate bowl.
In two stages, gently fold the dry ingredients into the wet batter until combined.
Evenly distribute the butter into the prepared pan.
Bake the brownies for 25 minutes, until the top is cracked and the center is still fudgy.
Allow the brownies to cool in the refrigerator overnight and cut into approximately 3-inch squares once cooled.