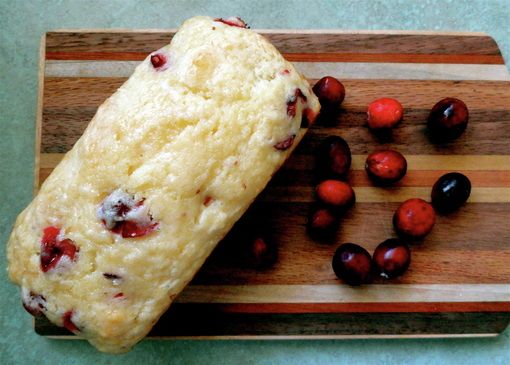 I have a problem. I love to bake. I have another problem, I don't always want to eat it for health reasons. You know what this means? I often will find somebody to bake for. That's what happened with this recipe. A friend completed their third half ironman this summer and placed first in their age group, so I offered to bake them something in celebration. They requested Cranberry-nut bread.
I have never made or eaten cranberry-nut bread. Hmmm.. Thanks to Pinterest I was able to find several recipes and picked one I felt looked promising. Since this recipe only made one bread, I have no idea what it tasted like. I did try some left-over batter from the bowl. To me the batter was good but the orange juice was very strong. I asked my friend for feedback and was told this was very good. I do plan to make it for myself at some point, but there are just too many other recipes I want to try for it to me anytime soon. ha
I found this recipe on
Anecdotes and Apple Cores
, it's also where I stole the photo.
Cranberry-Nut Bread
6 TBSP unsalted butter, melted and cooled
1 1/2 cups fresh or frozen cranberries, chopped coarse
1/2 cup walnuts (optional)
1. Preheat your oven to 350 degrees.

Grease an 8.5 by 4.5 inch loaf pan or four mini loaf pans.
2. Whisk together your flour, sugar, salt, powder, and soda in a large bowl. In a medium bowl, whisk the milk, the sour cream, the melted butter, the orange juice and the egg until smooth.

Gently fold the wet ingredients into the dry with a rubber spatula until just combined.

Gently fold in the cranberries.
3. Scrape the batter into the prepared pan(s) and smooth the top.

Bake until golden brown and a toothpick inserted in the center comes out with just a few crumbs, around 45-50 minutes for one loaf pan, around 20-25 minutes for mini loaf pans.

Remove from oven.
4. While still in the loaf pans, drizzle a simple glaze of powdered sugar and orange juice over top. (I used about 1/3 cup of glaze)
5.

After allowing to cool in pan for 10 minutes, turn out into a wire rack and allow to cool for 1 hour before serving.