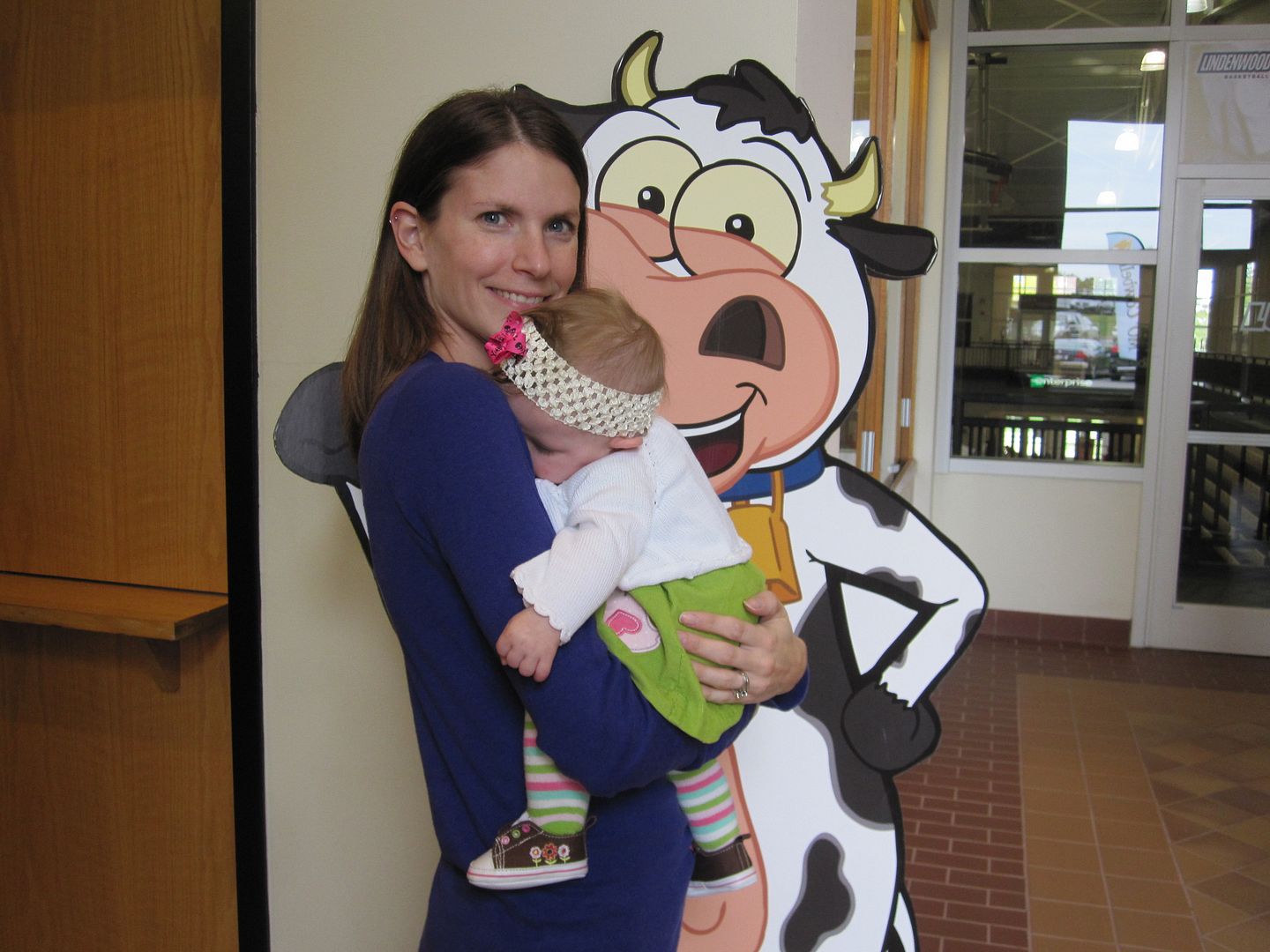 The day before the race, picking up race packet. R is very
impressed with the cow mascot
 This past Sunday I raced in the Mo' Cowbell Half Marathon. It was the second year for the race and my second year running it. It was my third half marathon.
I finished with a time of 1:48:11
.
That breaks down to an average pace of 8:18 min/mile. That is 10 minutes
FASTER
than I ran this same race last year. It's 30 minutes
FASTER
than I ran my first half marathon April of last year (2011).
I cannot tell you how incredibly happy I am with this race. I not only gave birth to R five months before the race, I also had major health issues, which I went into in my
pre-race blog post
. I have also never run that fast for any amount of distance. So to pull it off in a half marathon and feel amazing the entire time, it's just awesome.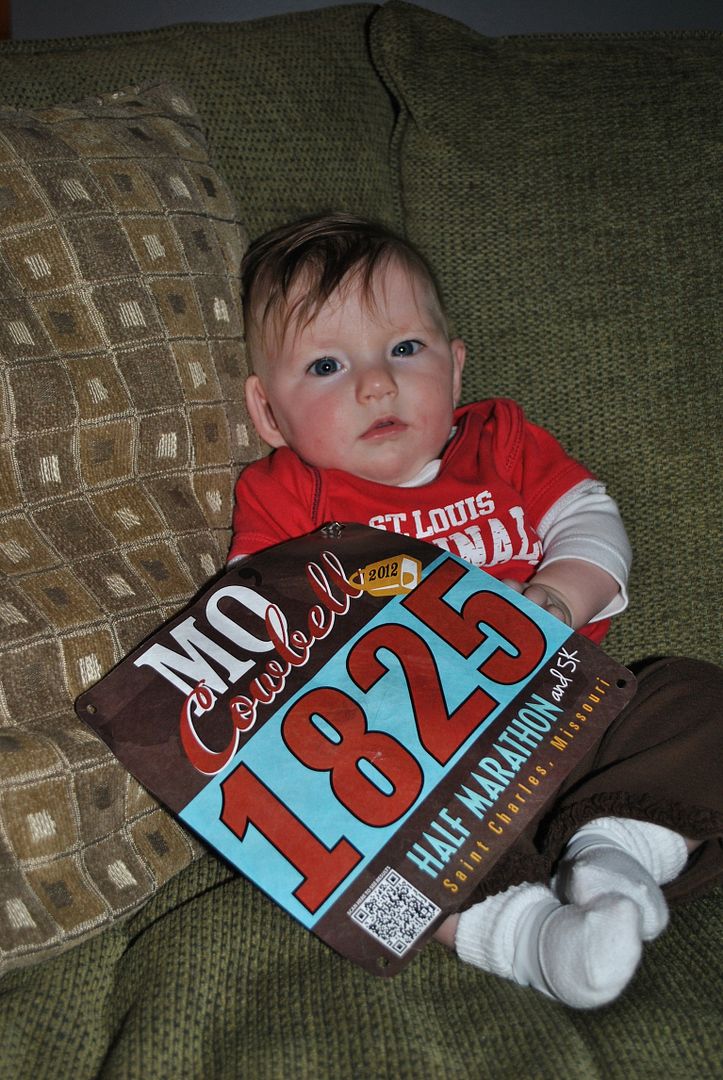 The morning of the race, giving my
bib some good luck crinkles
 Several weeks ago a friend who works for a local running store and was pacing a training group contacted me and asked me if I would like to contact a girl who was running the half. She felt our pace was going to be close and wondered if I would help pace the girl. Sure! So I contacted this other girl and her goal pace was 8:30. At that time I was thinking 8:40. But I said heck..if I'm running with somebody I might be able to pull it off.
Leading up to race day I had a couple of good long runs and felt confident I could pull off an 8:30 pace. The course for this race is mostly flat and I train with some hills. The problem is that the bigger hills are all at the end. So I talked to the girl I would be running with and me made plans to run 8:30 for 5-6 miles, evaluate how we felt and increase pace to 8:20.
Race day arrived and I'm feeling good. I meet up with my running partner for the very first time and we head to the starting line. We go out pretty fast, but we are both feeling good. We are even chatting a bit. Which probably pissed some people off because who can chat when racing? I held us back, keeping us between an 8:20 and an 8:33 pace. We felt good but I didn't want us to hit the wall and I knew we planned to kick it in at the end.

Getting some good luck lovin' before the race
 There were several kids along the route who had their hands out for high-fives and I was feeling so good, I made sure to give them high-fives and say hi. Smiling all the way.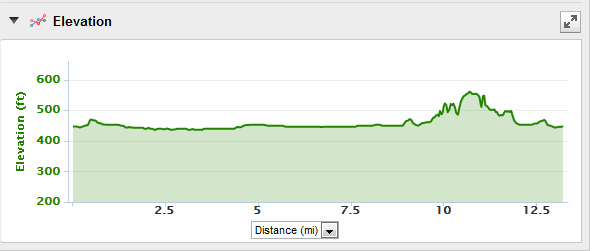 This is the elevation, per my garmin, of the course.
So you can see where the hills are
 We finish mile 5 and start 6, both feeling good. We each took a gel and increased pace a tad. We got to the water station and I took a drink of water and then we kicked it in a bit more. We know the hills are coming and we wanted to make up some time because we know we'll be slower when they arrive.
Hills come and we keep a pretty good pace, slower but we were able to manage it and we passed people the whole time. We see a sign for mile 11 and look at each other and go..where did mile 10 go?
We hit mile 12 and pretty much said..let's do this thing! And increased paced a bit more. Mile 13 arrives and we both decide it's only one more mile, we've
GOT
this. So we kept pace and tried to increase a bit. We come down off the last down hill. We knew it was flat to the finish. We rounded a turn and can see the finish and I said something like "There it is..let's do this" and we both kicked it in. We gave it our all, sprinting as best as we could. Which probably did not look like sprinting but after running 13 miles it's the best we could do.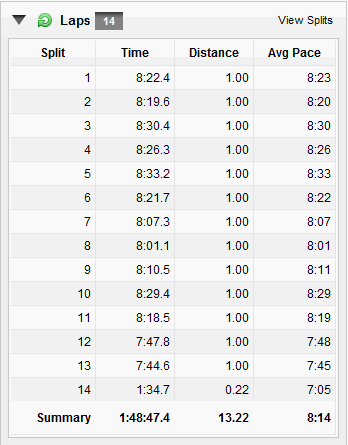 Mile splits per my garmin
 We cross the finish line pretty much still together. I then go a couple yards and made a mad dash to the side to puke. It happens. Well, it happens to me, rather often. Unfortunately I was surrounded by other runners and spectators. Ooops. I finished and stood up and said "Sorry you all had to see that!" Props to my new running buddy as she saw it happen and went and got water and brought it to me. Nothing like introducing this to a person the first time you meet them.
I feel that maybe I was too conservative in the beginning because we did both feel sooo good the whole time. However I also had the familiar "I think I'm going to puke" feeling at the end and I've realized that's a sign I've pushed my body. I also felt my legs almost give out several times in the last two miles. So I think I did race this one very smart. I also think that if we did go faster in the beginning, I might not have been able to keep up the pace or negative split the race. We did go faster than we originally planned but we were able to race it with negative splits like we wanted. We not only beat our time goal, we
CRUSHED
it. We did the last two miles under an 8 min pace! That feels soo damn good. Yes, we had downhills, but we also had uphills. We both just gave it our all it and it payed off.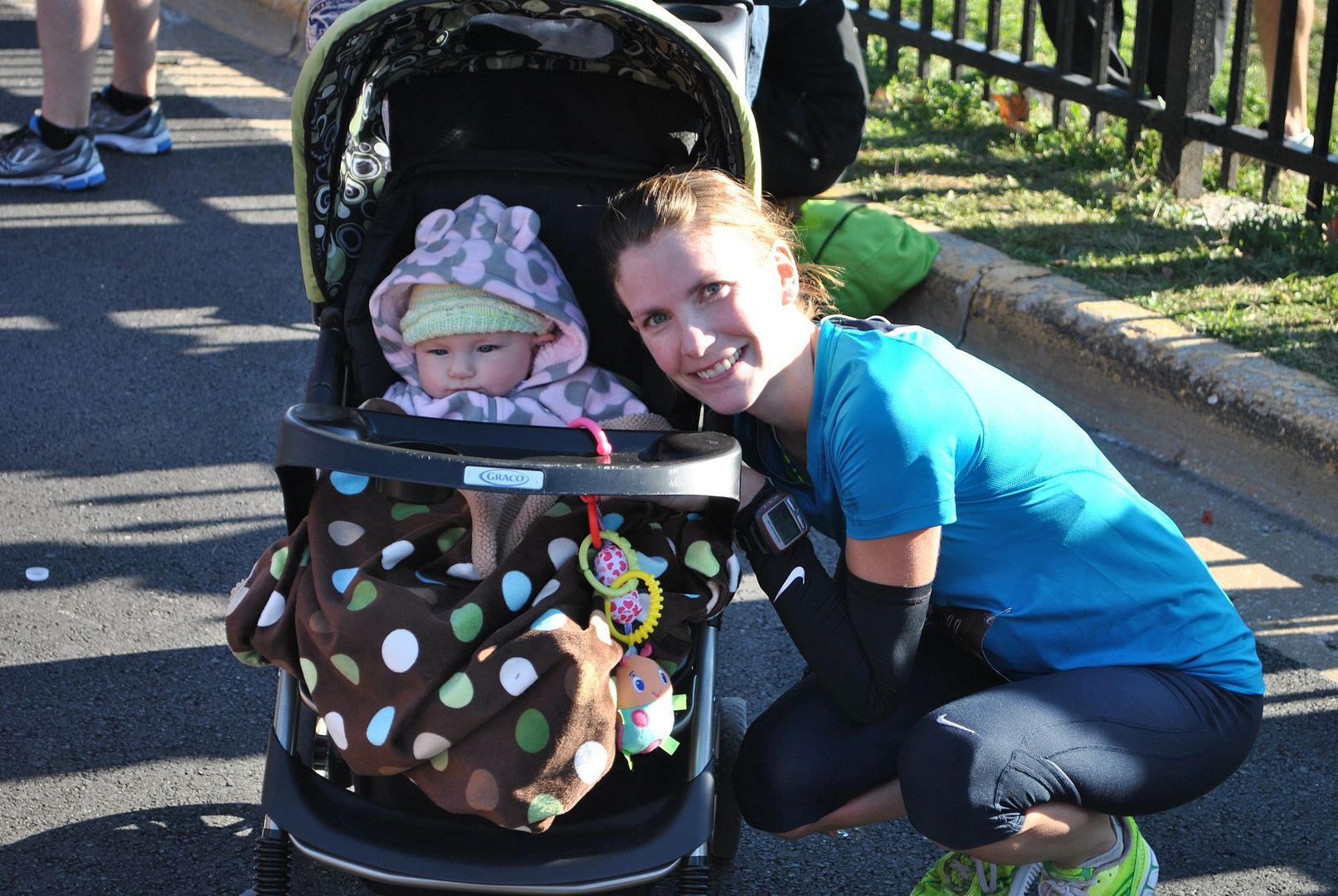 At the finish line, after the puking, sharing my joy with R
 This is, by far, my best race. I raced it the smartest, I ran the fastest, I had a major PR. On the drive home, Husband and I were talking about the race and he says "Do you think you could do an 8:05 pace next year?". Here's what I love about that. First, I didn't mention wanting to do more half marathons. Yes, I love to race so I would want to do more. But I didn't bring it up. He just figured I would be doing it again next year and is on board with it already. Second, look at that confidence. He is not a runner. He doesn't totally understand how hard it is to get faster with the sport. He does see how many hours I put in to it though. He totally thinks I can pull off another major PR next year. And you know what, maybe I can. I never thought I could run a half this fast. I don't even run shorter distances this fast. Now I know my body can though. So Mo Cowbell half marathon, if you fit into my racing schedule next year, we're on. I'm going to smoke it.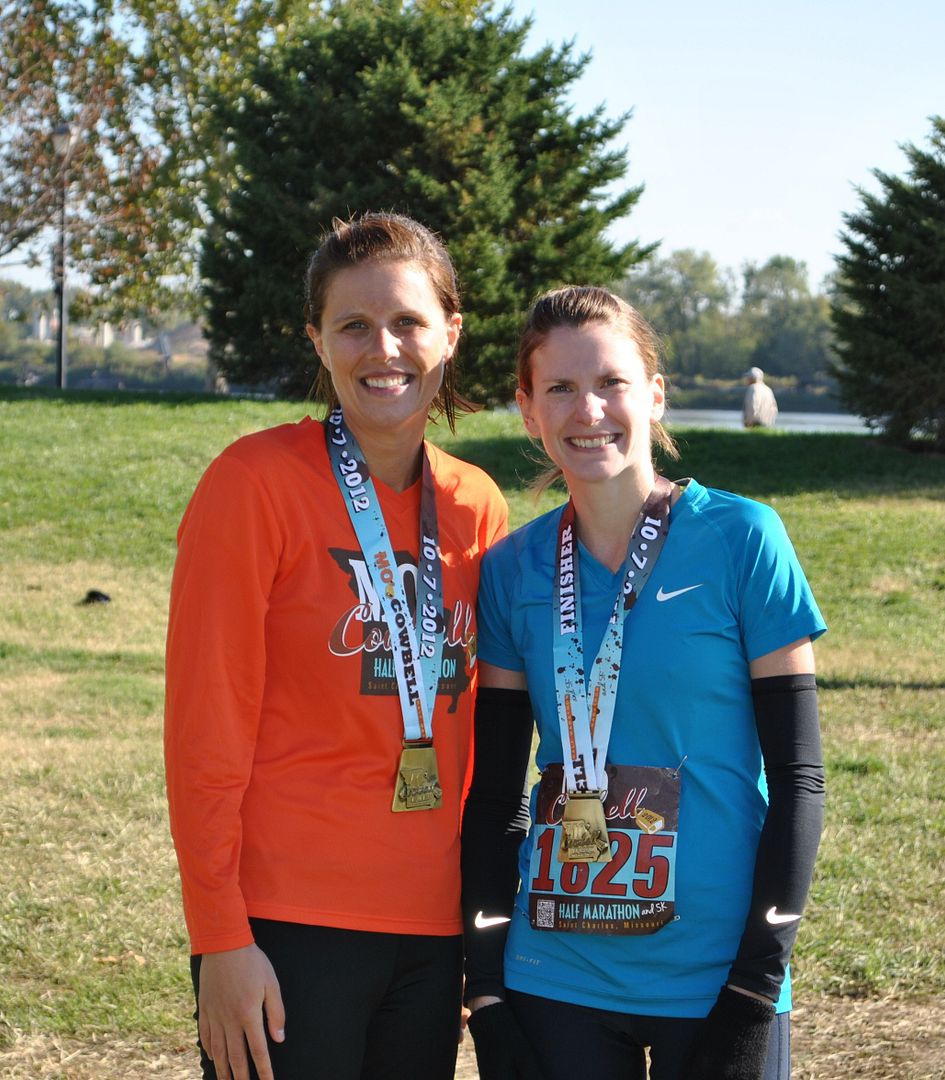 My running buddy! I couldn't have done it without her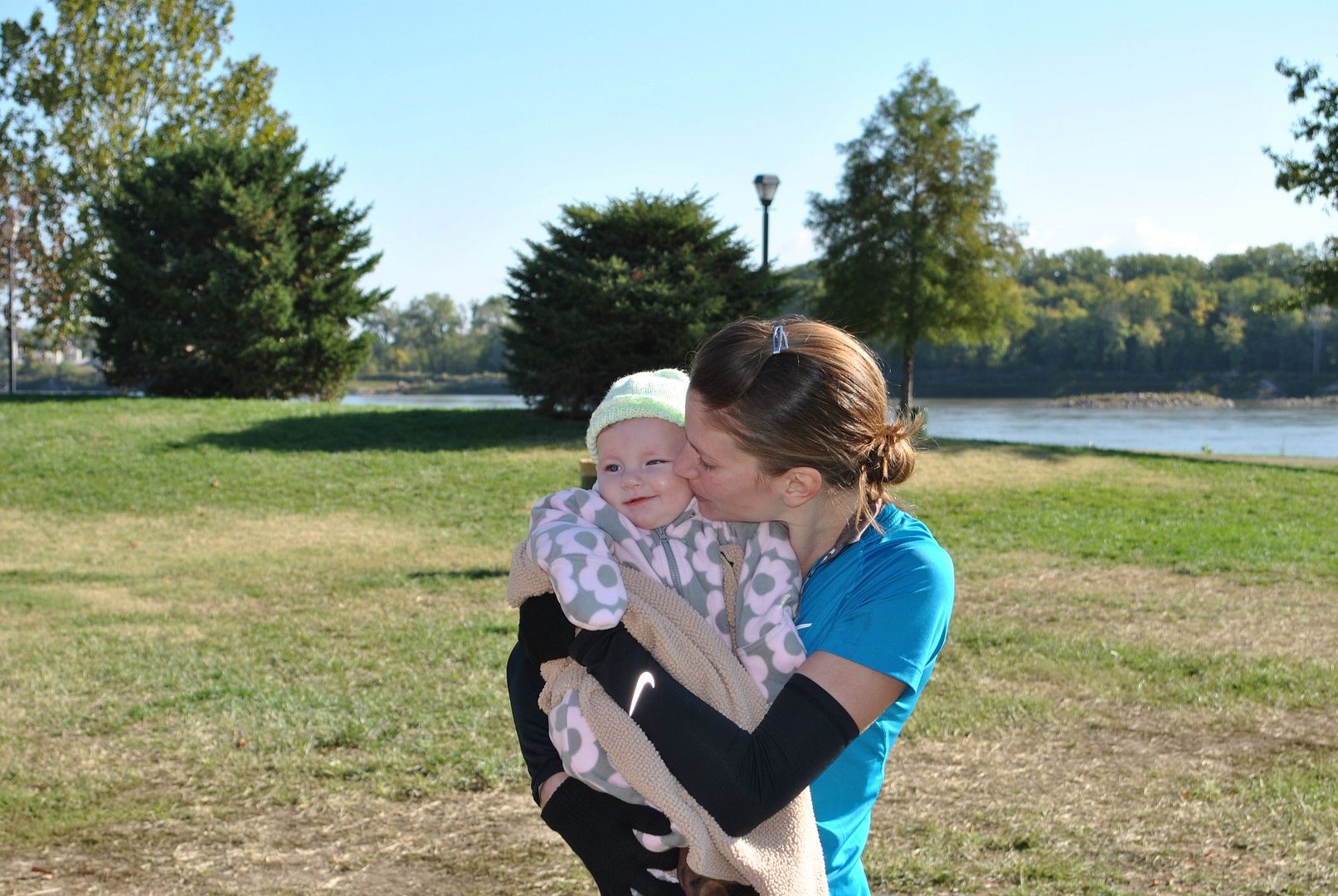 I couldn't help sharing one last phot. Giving R some love after
the race.