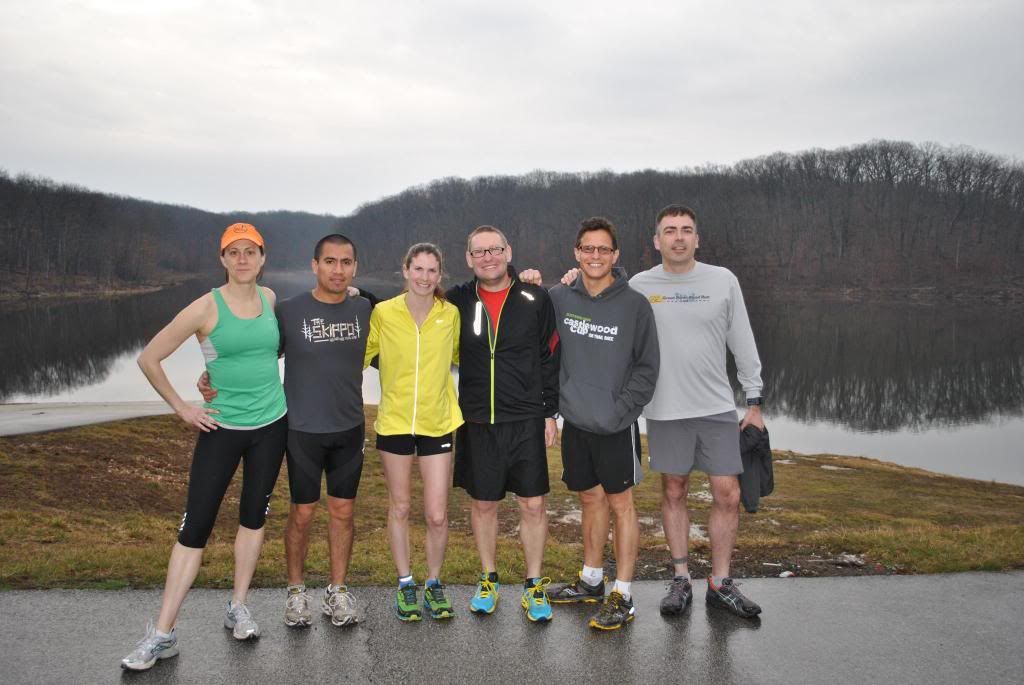 I'm in the yellow jacket. Before the race shot.
Quivering Quads is a half marathon trail race in Troy, Missouri. This was my first year running this race and I was excited about it even though I was dealing with the stomach bug and injury. The day before the race we had rain, for 5 hours straight. Over night we had more rain. Before the race started we had even more rain. This race turned into an adventure.
At the start of the race we were told the creek crossings were ankle deep. This ended up being true for some but not others. The longer you were out there, the higher the water rose and the deeper the creeks were. When I went through some the water was higher than my knees. The current was strong too. I was lucky that I didn't fall or get pulled under, but others had trouble. In fact, this is proof that runners are awesome. There was an older guy in front of me and I kept getting close and then he would get further away. Well, as luck would have it, I was somewhat close at each creek crossing towards the end of the race. He would get across, then walk and watch me to make sure I made it across (and talk to me while I was). Then when I was safe he would take off again. Now that's an awesome runner. I couldn't find him at the finish to thank him either.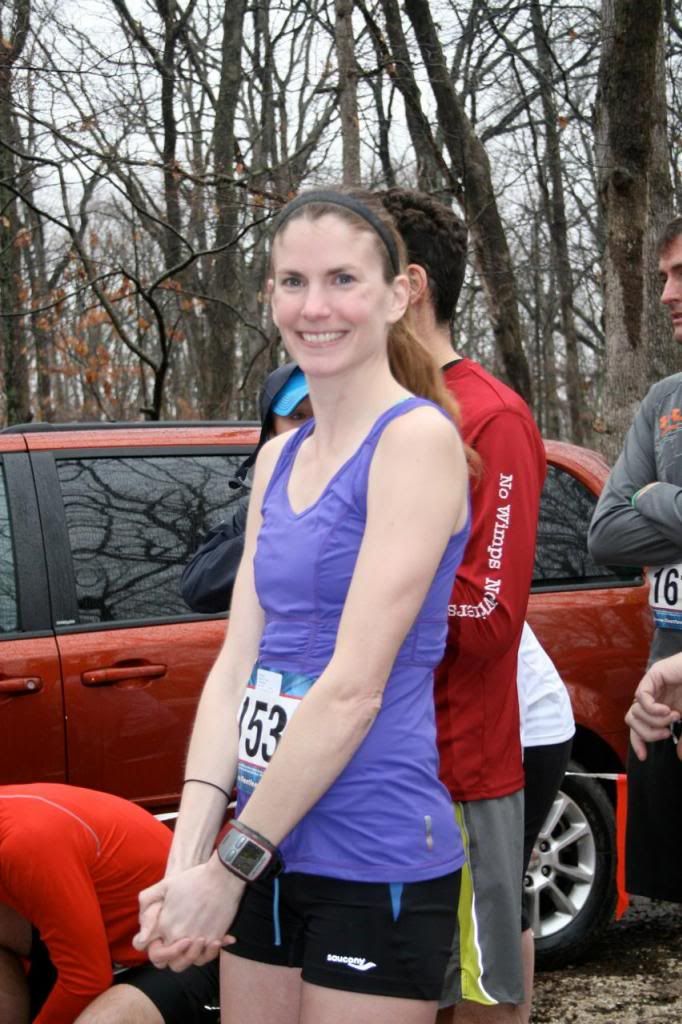 waiting for the race to start
The entire course was mud. And more mud. On parts, where the trail went downhill, you were just running in a river of water. Other times you were running through standing water on the trails. If it wasn't water, it was just mud. This made for some very interesting situations. A couple parts of the trail were drop-offs to a creek and it was a long drop-off, you had to walk it due to slipping and sliding with the mud. I LOVED it.
The first 6 miles of this race were awesome. I felt good. I was having fun. I started out with people and then slowly I left them behind. I would catch up to a group or an individual, pass them the first chance I had, then run by myself for awhile. Then I would see somebody ahead and focus on catching them. Catch up to them, pass, repeat. Many of the times when I was by myself and couldn't see anybody, I would just look around me. It was peaceful. It was beautiful. I loved being out there.
Then it started to rain again. I lost feeling in my hands and my arms were numb. My legs were heavy. My shoes were so heavy from the mud and water I had trouble lifting them. I had to start walking on hills. Sure, lots of people do this, however I train with tough hills. I pride myself on being able to run hills. So for me to realize I needed to walk them, that was hard.
still early on
I'm not sure if this was a good thing or not but my feet were numb and I was so cold I didn't feel the pain in my feet and I was able to finish the race. I paid for it after the race and most of this week, but at least I was able to finish the race. Not the smartest thing, but what are you going to do?
I am somewhat disappointed with this race but at the same time I'm not. Makes sense right? I'm disappointed I had to walk up hills towards the end. I'm disappointed I walked A LOT and not just on hills during the last mile. I'm disappointed that people who shouldn't have beat me, because I had a good lead on them, ended up either catching me or getting close. However I also feel good about this race and happy about it because I know all of this was due to the injury and not being completely over the stomach bug yet. Not to mention the race conditions of the course itself. So for me to pull off what I did, I think I did pretty darn good. Plus, I had a heck of a fun time doing it.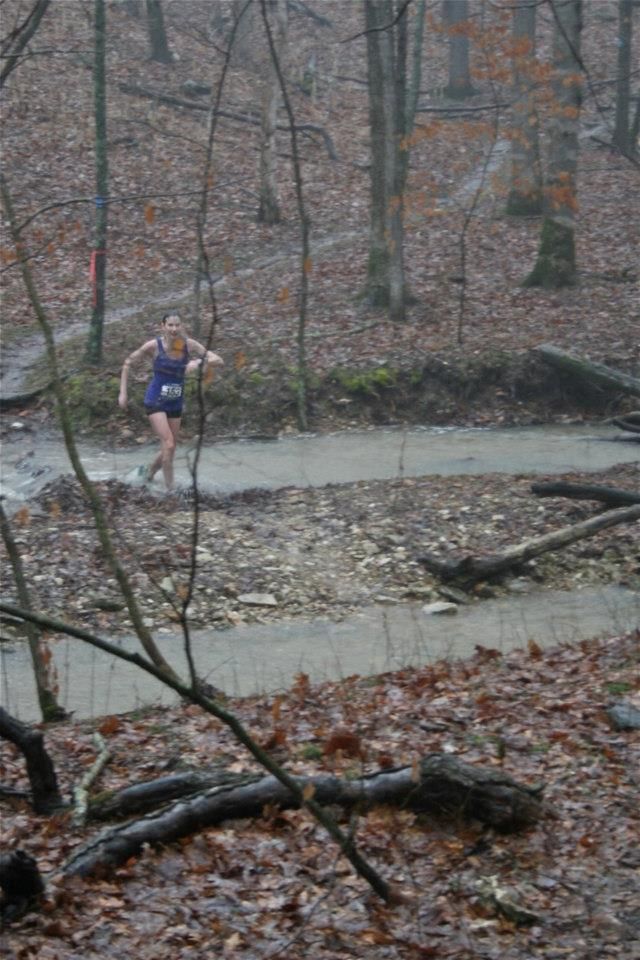 towards the end
I walked away with a finisher's medal and a plaque. That's right! I placed in my age group! I was 100 out of 336 finishers. I placed 8th female. I was either 2nd or 3rd in my age group. I have a plaque for third, given to me at the race, however I received an email saying I was 2nd and online it shows I was 2nd in one place but 3rd in another. Go figure. I have emailed the company to inquire about it and to see if I need to exchange plaques. I know the female winner was in my age group, so maybe that has something to do with it. Not sure.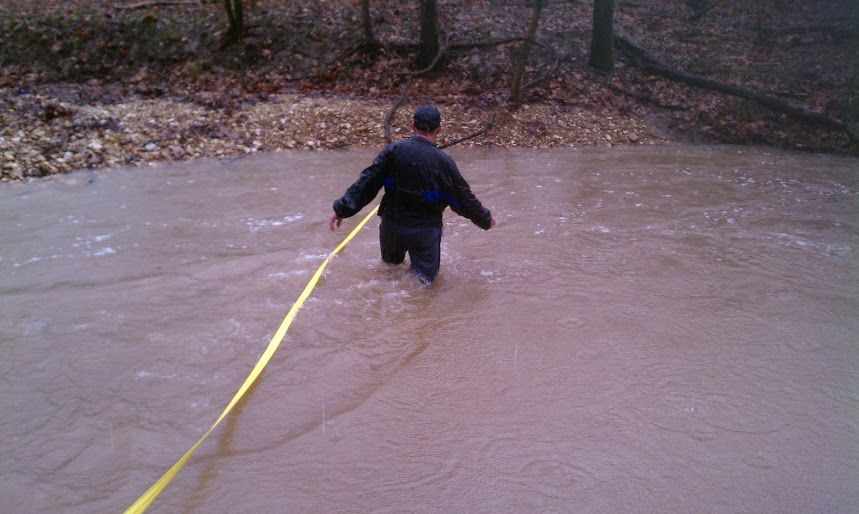 not me, obviously, but shows how high the creeks got
Here is more detail about my run, including mile splits etc.