Getting ready to line up
The Eads Bridge Duathlon was last weekend, April 21st. This duathlon is a 1.5 mile run, 10 mile bike ride, 1.5 mile run. The race starts on the Eads Bridge, on the MO/IL state line. You then run to the end of the bridge on the IL side, then back to the MO side and to the transition area. Get on your bike and away you go for 10 miles! Then back to the transition and you repeat the run in reverse order.
Due to recent flooding the transition area had to be moved and this made the run 1.82 miles instead of 1.5, however the bike was still pretty much 10 miles.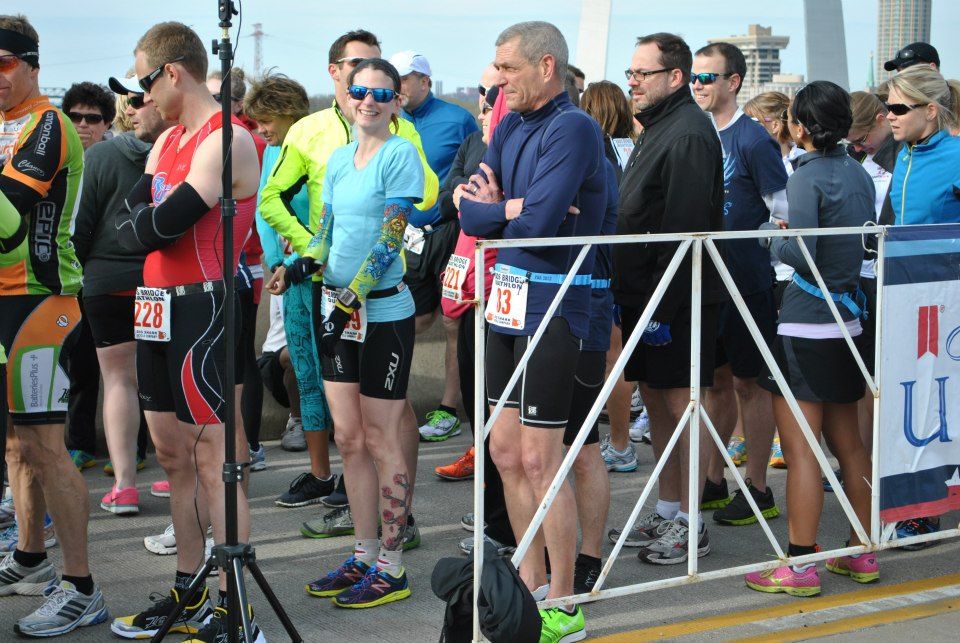 Waiting for it to start, it was FREEZING (and yes,
those would be sock monkey's on my socks)
I originally signed up for this race so I could get some practice racing on my bike and doing official transitions before triathlon season starts for me. For those of you who know me, I think we can all agree that even though I knew this was a practice race, I was still going to race it and do my best.
I have to give props to my husband because we spent about an hour on Saturday practicing transitions in front of my house. He would time me and give me suggestions on what to do. At one point one of our neighbors came over, he bikes, and he helped give me pointers too. This also allowed me to get some sort of familiarity and comfort level with the transitions.
And we're off! I love the arch in the background
The day off the race arrived and my entourage and I headed down to the race. Husband, R, my Mom and my MIL all went down with me since this was the first race of this kind I have ever attempted.
I wasn't too happy to know that I was pushed up an age group level as they went by what your age would be at the end of the year and not on race day. I had to hope that most of those in my new age group would be older and less experienced (somehow) than I was. haha!
I was able to get my transition area set up and we walked to the start. Husband and my Mom switched camera's as my camera is a dslr and kinda bulky and my Mom had brought her small one. Husband, even though he doesn't run, was super supportive and said he would see me off at the start and then run to the transition area to give me support there. He wouldn't be allowed inside but could spectate from afar.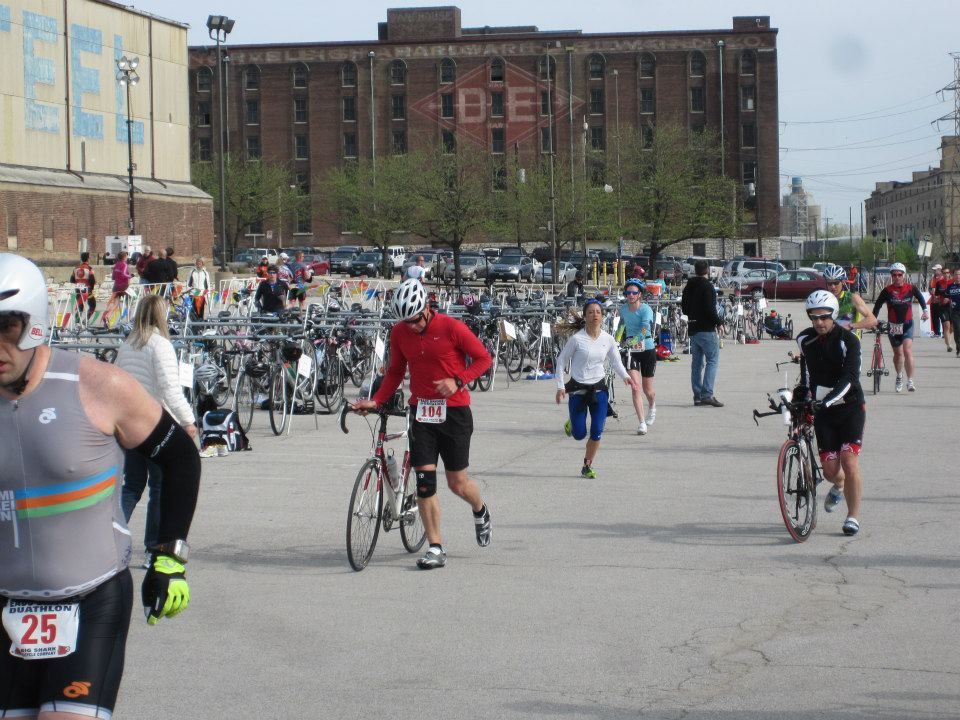 1st transition.I'm behind the runner
My coach has said he wanted me to do the race in 58-59 minutes. Based on my training, I knew I could do well with the run but we weren't sure what my race pace was on a bike. I just bought my bike in November so I've only actually been on it outside a handful of times. I was kinda going in to this blind. I had done a brick as a test and I was able to run a mile in under 8 minutes after riding my bike for 11 miles. So the plan was to do the two runs with my miles being under an 8 min mile and then do as best I could on the bike and with the transitions (transition time counts towards your total time).
Imagine my surprise when my watch beeps at the first mile marker and I glance down and see a 6 as the first number. Yup. I not only did my first mile in under 8 minutes, I did it in under 7! My first mile was 6:50. This was a mile PR (personal record) for me! I couldn't believe it! I knew I was going fast but not that fast!
Then came the transition. Here I messed up on a couple of things. First, instead of hitting the lap button on my watch to mark the transition, I hit stop and didn't realize it. So instead of recording the time for my transition it was just paused. Even though I had practicing taking off my running shoes and slipping on my bike shoes, I had issues with one shoe. This wasted some time. I then had issues with my helmet. I have no idea how or why. I couldn't get it strapped on and had to take it off and mess with the straps and put it back on. Finally, though, I was on my way!
yup - he got chicked
Once I was on the bike I remembered to hit my garmin and that's when I realized my mistake. So I had to push start and then the lap button twice. So my times and miles for my run and my bike ride are off because of this. Not a big deal, but for the geek in me it doesn't allow me to really analyze my pace as in-depth as I would like.
Having never raced on a bike before, here was my plan going in to the race. I would start out at a pace I thought was good for me. If I'm constantly being passed, I know I need to give it a bit more. If I'm passing others, I know I need to slow down. As it happens, there weren't really any groups of bikers. Most people were on their own, either passing or being passed. Those who passed me were FLYING and there was no chance of me catching them. I didn't pass too many on the first loop but on the second loop I did. I think this was as more bikers joined the course. The bike course, I was told was mostly flat. Well..kinda true. We had to maneuver up some hills to get to a road and then it was an out and back, which we repeated twice. This main road had a small incline, so when going one direction you were going up a bit and the other direction going down. Because this is just how things work for me, the headwind was when you had the slight up hill. Yeah. Fun!
Towards the end I had two girls pass me but I kept up with them and we finished going towards the transition together. I was a bit annoyed as on the straights I would start to pass them, then we would get to a turn and they would slow way down and move so they were in my way and I had to slow down. I think this caused me some seconds arriving at the transition zone because I had to slow way down and got stuck behind them getting off the bikes. However I ran to my spot, threw off my helmet, gloves and shoes, slipped on my running shoes and away I went!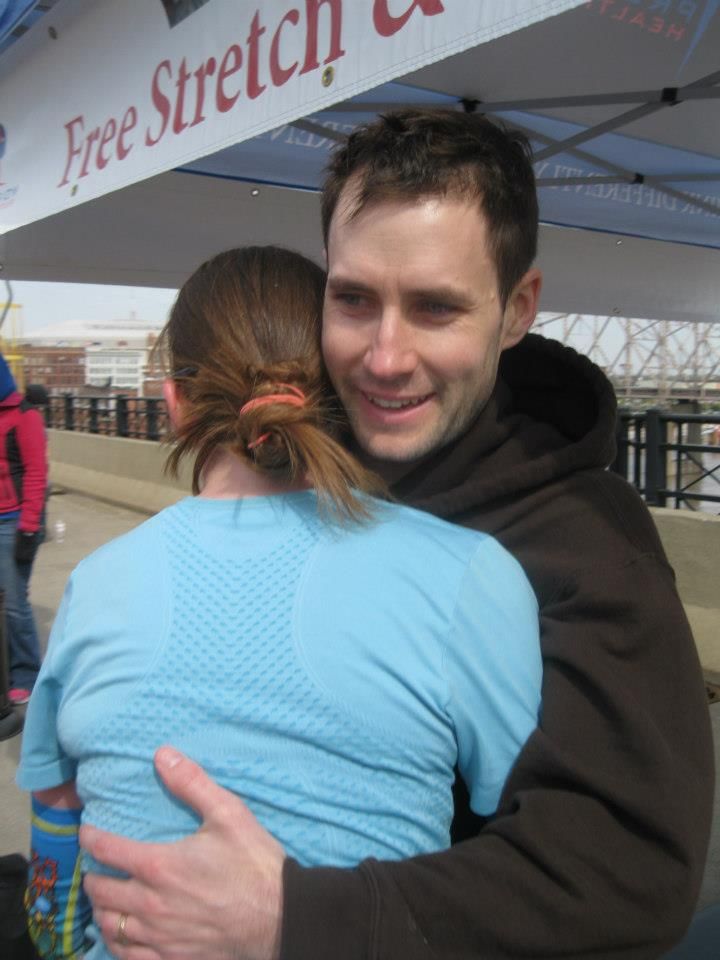 Husband hugging me right after I finished
The second run started with hills. Up hills. Then we reached the bridge and it was just across the bridge, a small down hill then up-hill and back to the finish. The legs were super tired on this one because of the bike ride but I managed to pass people the entire way, which felt really good. Husband saw me at transition, then ran to a spot on the course to cheer me on, then was able to get to another spot right before the bridge to cheer me on again. This helped soooo much. When turning around on the bridge, I kicked it in and started to surge a bit on the hill. Then I surged again right at the end, passing some guy right before the finish. haha! I spent this run trying to pick off the females. Finding one ahead of me and focusing on catching her. I ended up negative splitting this run. The first mile was around 7:57 and the second, .82 mile, was 7:42.
At first I was feeling very good about my race. I knew I gave it my all on the run and the bike. Then I got the results. I missed placing 3rd in my age group by 4 seconds! This bothered me for several days. I walked around being weird about this race. Knowing I had no reason to be disappointed, but being disappointed all the same. I didn't hit my time goal, I came in at 1:03:05. I missed placing by 4 seconds. I kept going back over the race, finding places where I could have made up those 4 seconds.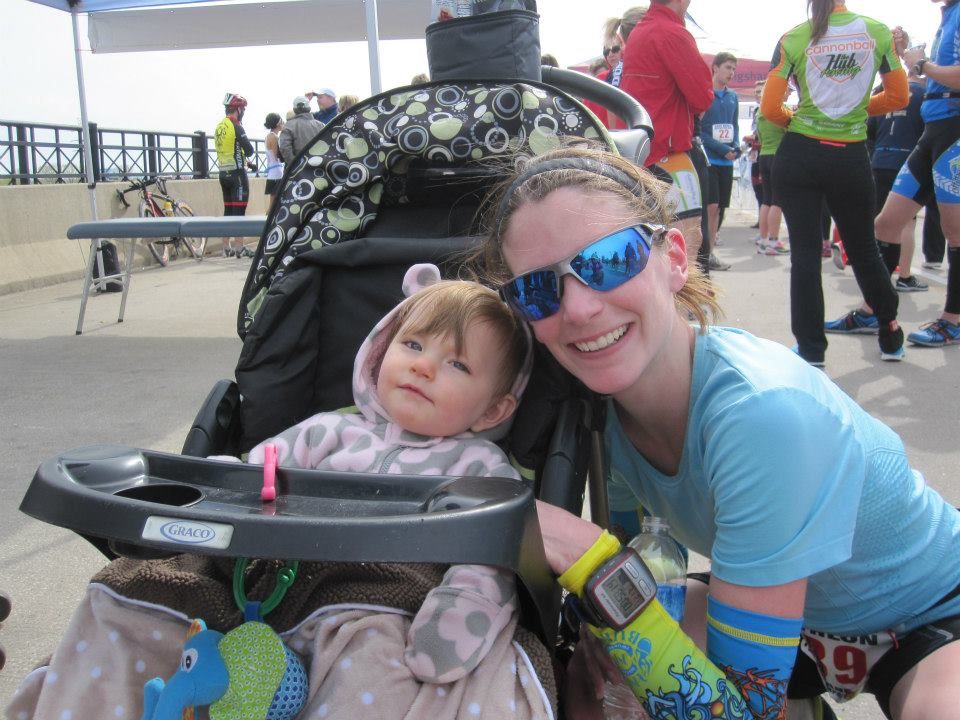 All done! R doesn't seem to care does she? ha!
After talking with a couple of people, I'm feeling feeling very good about my race and very happy with my results. These are the things that were told to me that I have to remember":
1) This was my first time racing on my bike
2) This was my first time with transitions
3) This was my first time doing a duathlon
4) I PR'd my first mile. I did under 7 min miles for the first run, so much better than expected. I hit my goal for my second run.
5) The run was longer than anticipated, yet the bike course was still the same miles. So it's ok it took me longer than hoped for to finish the race
6) This was my first outdoor mutli-sport race, remember #'s 1-3, and I missed placing in my age group by ONLY 4 seconds.
My official results:
Finish time: 1:03:05, 73/286 overall, 15/138 female, 4/21 age group
To give you an idea of how close the top 4 in my age group were, here are the finish times: 1:02:53, 1:02:58, 1:03:01, 1:03:05. Crazy! The first person in my age group only beat me by 12 seconds!
I've decided that I really enjoyed doing this race. I loved doing the two sports. Both sports were a challenge and doing two in the same race gave it an excitement that I don't get from just running (even though I do LOVE the running races). Husband has already said that it will be fun to see what I can do the bike portion in next year after I've had a year of training with it. Looks like I have to come back and do this one again and go after a PR.