Weekend Cooking
is open to anyone who has any kind of food-related post to share: Book (novel, nonfiction) reviews, cookbook reviews, movie reviews, recipes, random thoughts, gadgets, fabulous quotations, photographs. If your post is even vaguely foodie, feel free to grab the button and link up anytime over the weekend. Please link to your specific post, not your blog's home page. For more information, see the
welcome post.
If you are anything like me, you are/were nervous about making a red velvet cake for the first time. I kept hearing from people how hard it was, how it never turned out right, etc. I finally decided to make one because the husband loves red velvet cake and it was for a special occasion, maybe his birthday, I can't really remember. So I went searching online, I read several different recipes. I read some from unknown people, I read some from famous people (such as Paula Dean and Martha Stewart). There were always raving reviews and bad reviews. I finally picked one from an unknown person on about.com for one reason. The directions. The directions to make the cake were different from all the others. The reviews were all positive, although there weren't very many. I figured, all good reviews, this person does something different, it's worth a try. I tell you what...it was easy peasy and came out great! I will never fear making the red velvet cake again. In fact, I made it again today for my husband. (I needed a cake for my cake decorating class and he got a new job, so I let him pick since it's a celebratory cake).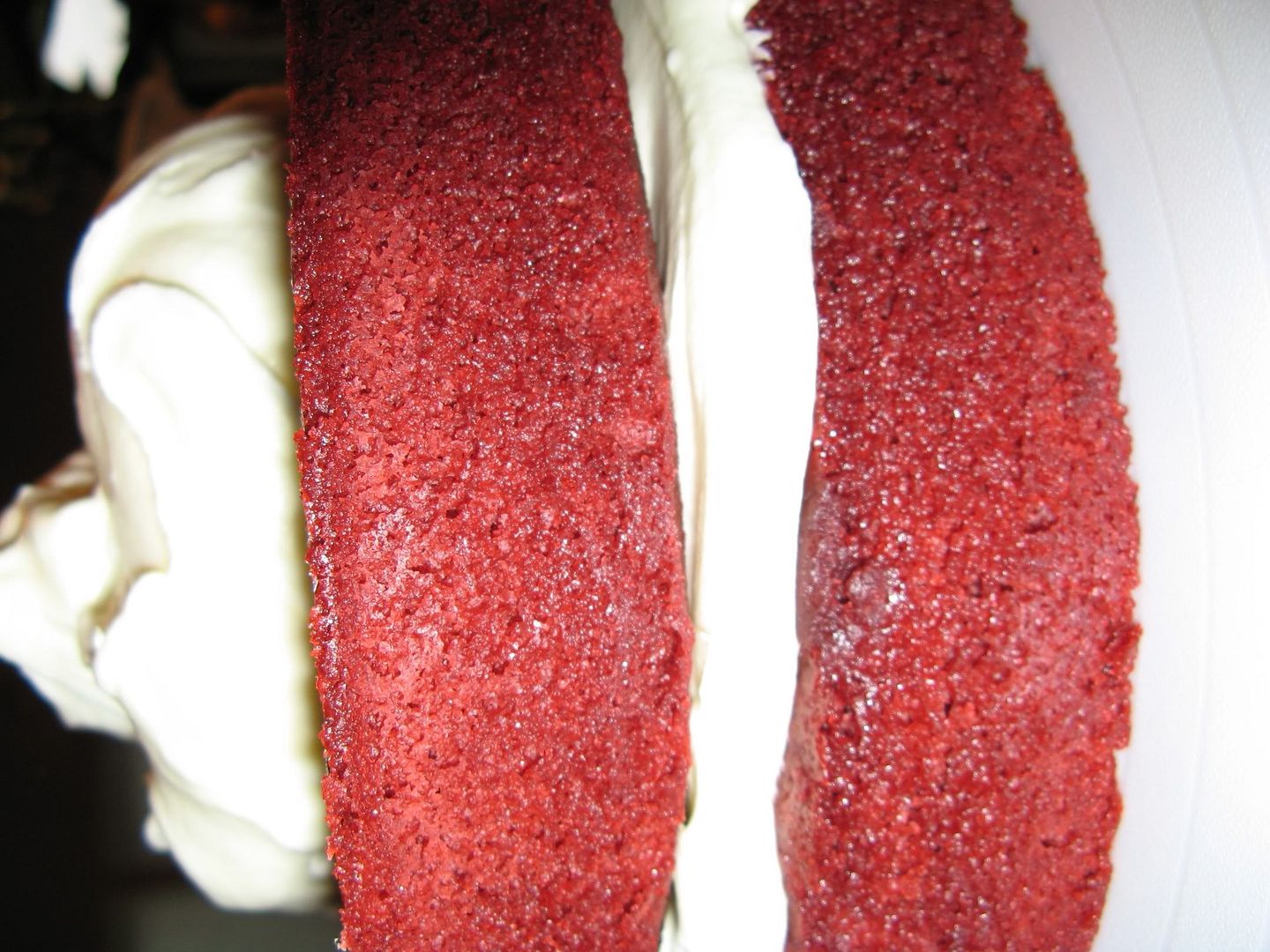 Ingredients
1/2 cup butter
2 whole eggs **
2 tbsp (heaping) cocoa
2 1/4 cup cake flour **
1/2 tsp salt
1 tbsp white vinegar
1 1/2 cup sugar
2 oz red food coloring **
1 cup buttermilk **
1 tsp vanilla
1 tsp baking soda
Preparation:
Pre-heat oven to 350 degrees.
Cream butter and sugar, then add eggs. Make a paste of food coloring and cocoa, then add to the creamed mixture. Combine flour and salt. Add buttermilk and the flour mixture to the creamed mixture, alternating. Add vanilla. Add the baking soda to the vinegar, HOLD OVER THE BOWL BECAUSE IT FOAMS. Then add the soda and vinegar to the mixture, blending instead of beating.
Bake 25-30 minutes in 2 8-inch round cake pans, greased. Cool on racks.
** - If possible, use eggs that are room temperature. I used normal flour. I only use one container of red food coloring. I use a powdered buttermilk. You can buy it in the baking aisle and then keep in fridge once open. It lasts a long time. There are directions on the container on how to get the correct amount of buttermilk for your recipe.
Ingredients"
1 cup unsalted butter, softened
2 packages (8 oz each) cream cheese, softened
8 cups (about 2 lbs) confectioners' sugar
1 tbsp milk
Directions"
In a large bowl, beat butter and cream cheese with mixer until light and fluffy. Gradually add the sugar and milk. Beat on high until smooth.
**This makes a ton of icing. I had enough to ice the cake and a lot left over. I am ok with that since I have to make it stiffer and use it to decorate the cake for class on Tuesday. Normally, it would be a waste though. Today is the first time I have made cream cheese icing and it does taste good, but thinking there has to be another recipe out there that doesn't make as much. This recipe came from Wilton's website.
(PS...as I was starting to ice the cake I remembered I wanted to share a picture of how red it looks with just one thing of red food coloring. As you can see, there really isn't a need for 2 of them...so my recommendation is to save your money and only use 1).