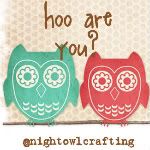 Hoo are you is hosted by Night Owl crafting, click on the picture above to go to their website and play along.
This week's questions and my answers:
1. How many times a year do you get your hair cut?
I'm actually in the process of growing my hair out, well, longer. Right now I get it cut every 8 weeks. Once I get it the length I want it, I'll probably go every 10 -12 weeks.
2. Where is the worst place to be stuck waiting?
In line..anywhere. I get impatient, especially when I don't have a book to read.



3. What are your favorite pizza toppings?
Mushrooms and Onions..hands down. If I have to share the pizza with Husband, he doesn't like onions so I don't get those. At least I can usually talk him into sausage instead of pepperoni, then I end up picking off a lot of the sausage.


4. What's your favorite thing about where you live?
I love all the old neighborhoods. St. Louis doesn't have a great downtown, but we have a lot of old neighborhoods with charm. Central West End is full of fun little independent shops and some restaurants, surrounded by huge, beautiful homes. Same with Lafayette Square. Baileys Chocolate Bar is located in Lafayette square, best chocolate martini's in town if you ask me. I've done the house tour in Lafayette square, it's a lot of fun. Dogtown is an old Irish neighborhood. The Hill is another area with small, cute houses and good Italian restaurants. Webster Groves has a great atmosphere and beautiful homes, some of which were part of the Underground railroad.


5. What's your favorite fruit? Veggie?
My favorite fruit are strawberries. Love strawberries. Veggie..not much of a veggie person. I suppose I would have to go with mushrooms, or maybe corn.