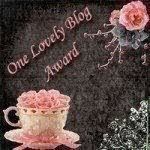 Su-sieee! Mac from
This and That. Here and There. Now, Sometimes Then
. was kind enough to give me this award.
I'm incredibly flattered, especially since this is such a new blog for me and I don't have a lot of followers or readers yet. Sometimes it feels like I'm talking to myself. I'm glad to know that I'm not.
Thanks Su-sieee! Mac, you truly brightened my day.