This Monday, instead of telling you about everything I did last week I'm going to focus on one thing, the Castlewood Cup.
The Castlewood Cup is a 15k (9.3 miles) trail run held at a local state park, Castlewood. I live right by the park and tend to run there on the weekends, so I knew just how tough it was going to be. There are a some wicked hills. Lucky me, the 3 worst hills were all included in this course.
I had signed up for this one last year knowing that it would be tough, take a lot of training, and would be just what I need to force me to go outside in the cold weather and run.
Unfortunately, I had several set backs that kept me from training like I wanted to. I did a 10 mile race the end of November and my heel (I have a heel fracture that still gives me trouble) hurt for over a week after that. Then I had a cold that lasted about 2 weeks in December. Then the end of January I had an op surgery that kept me from doing anything for a week, and then once I did start to run again I had to take it easy and could only handle low mileage. So coming up to the race..the weekend before I ran 7.1 miles on the course, but before that the most mileage I had done was almost 5 miles. Nowhere close to the 9.3 needed.
So I was very nervous about race day and my goal was to complete the race without walking and not to be last. One of my friends was running it with me and I knew that if I was able to stay with him for most of the race, I wouldn't be tempted to walk.
So how did I do? I'm happy to announce that I didn't walk! Nor did I come in last! In fact, I was 192 out of 322 people, and I was the 45th female to finish. Woohoo! I completed the 15k trail run in 1 hr and 36 minutes. This gives me an average pace of 10:32/min mile. That's a somewhat slow mile for me, but considering the hills and the length of the course and my problems training, I'm ok with it. I'm happy with how I did. In fact, my last mile was mostly flat and it was 9:06/min. I still can't believe I was going that fast, I thought I was dragging. The race was very hard and had it been much longer I'm not sure how long I would have lasted. It truly was a challenge for me and I feel incredibly happy with myself for doing it. Oh..did I mention that we had a lot of rain last week and the trail was very muddy.
My husband went along and snapped some pictures. I thought I would share, even though they aren't the most flattering pictures of me. You've been warned.
This is roughly 2 miles into the race, I'm in black with the blue shirt. And my friend is behind me in white. and yes..we were talking. lol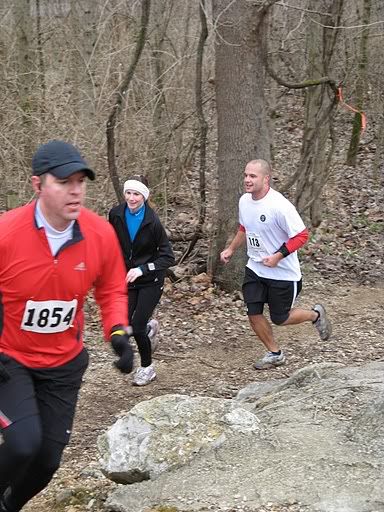 Towards the end of the course there was a creek crossing, which was somewhat high due to the recent rains we had. Husband got a picture of me before I got in the creek. There was a photographer taking pictures of everyone crossing the creek though, so I hope to get one of me in the creek soon.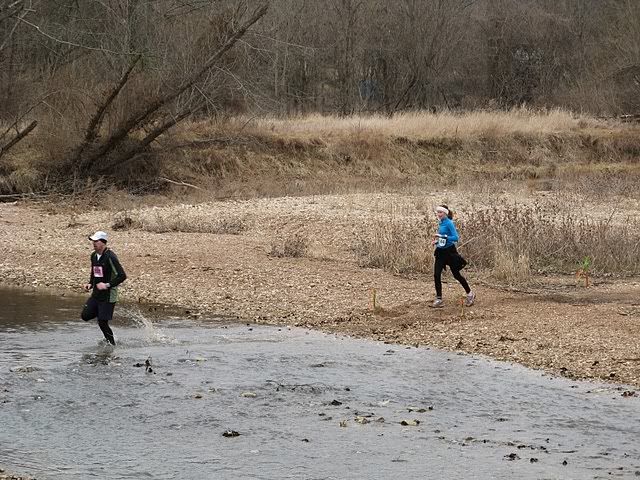 This is me almost at the finish line! I'm incredibly tired and as you can see I'm barely picking my feet up.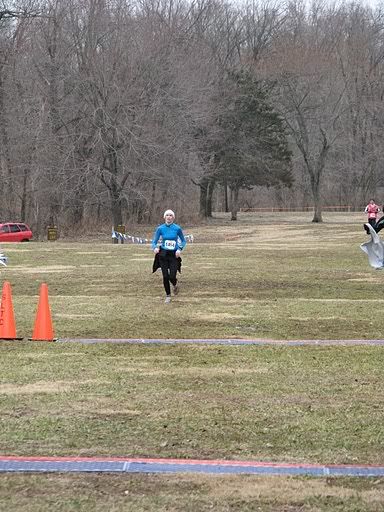 This is my friend and I after the race..once we had gotten something to eat and drink. It was sooo cold..we were standing by the heat lamps and shaking. I was holding the cup with both hands because my hands were shaking uncontrollable.