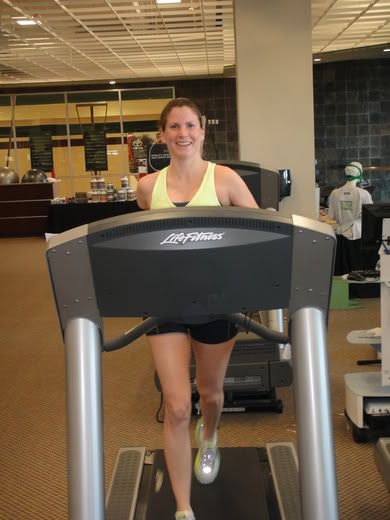 Running at the gym in March, final leg
of an indoor sprint triathlon
I've done posts before mentioning how I was working out while I was pregnant. I was very happy that I was able to work out the entire time. In fact, I ran 5 miles the day before I started having contractions. I suppose that's about as close as somebody can get.
I took the time not too long ago to actually figure out how many miles I did while I was pregnant.
My total mileage: 1,172.61
Running: 564.92
Swimming: 29.49
Biking: 566.15
Walking: 12.05 (this was when I set out to run but had to walk instead)
I am so happy with how well I did. My goal had been to work out till February. February came and went and I was still movig well. The further along in the pregnancy I got the worse I felt, major pains. However the baby was safe so I handled it.