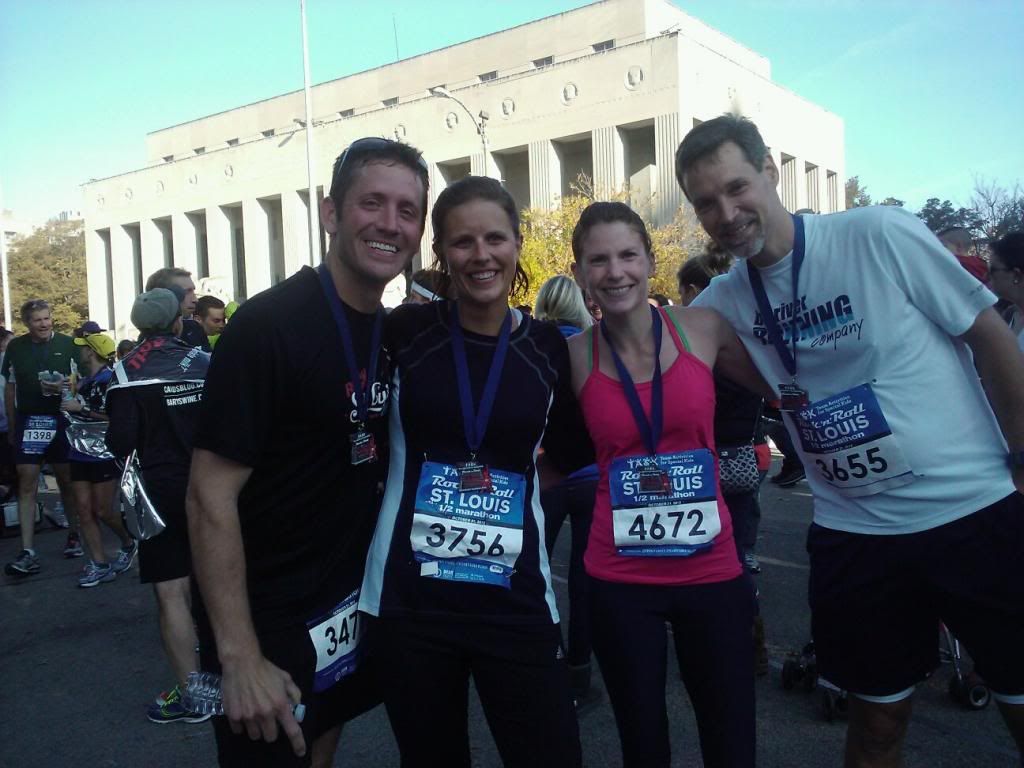 The 4 of us stuck together for most of the race (I'm in pink)
Whew! This was my third race in three weeks. Tough! I won't say it's the hardest of the three because Tough Mudder was hard with the obstacles. However in regards to just the running, this was the hardest of the three. This one was hilly throughout the entire course.
elevation for this race
At first the plan had been to just run this for fun. I knew several people running it and some of us were looking at is as just a fun group run. As it got closer that changed a little bit. The girl I ran the half marathon with on the 7th decided to run this one as well. Then she was put in touch with somebody else who was running it and he was going to meet us at the race. So I went from having no time goal to have a time goal faster than what I did my other half in. Then I got a cold the week of. Ugh.
So I went into the race knowing what I hoped to do but also knowing that this course was much harder and my body was still fighting the cold. I planned to stick with a couple of people for as long as I could but if I needed to slow down, I told myself that would be ok. I would try to help pace them as long as I could.
So we start out as a big group, but soon it was just 4 of us sticking together. One guy was pacing another girl at a faster pace for her to get a PR (personal record). Three people were close in pace and one guy was doing the full while two were just doing the half, so they paced each other most of the way. The four of us left were the slowest ones, but still doing an excellent pace.
I felt this one pretty early on. It was HARD. My legs were tired, I had that familiar "I'm going to puke" feeling on almost every uphill. I knew we were pushing the pace right away but since I was running with others it was easier for me to keep going. Eventually the girl and I were getting further behind the two guys. On one straight we increased and got closer to them, but then I got slower on the next hill and they pulled ahead. On another straight she asked if I felt I could catch them. I said no way, I was giving it all I had. However I pushed her to take off and catch them.
mile splits
A mile or two later I saw one of the guys ahead of me. I made it my goal to catch him by the finish so we could run in together. We were coming up on the finish, I was about 2 yards behind him. Then it happened. I had to sprint over to the side of the road and puke. I was at mile 13. I had .1 miles to go to the finish. I was sooo upset.
I stopped my watch while I was puking. I then started my watch when I started to run again. I basically sprinted to the finish. According to my watch my finish time would have been 1:48:30. This would have been a 14 second PR from my half two weeks ago. As it is, my official finish time is 1:49:05.
14 seconds. That isn't very long. However it would have been a heck of a PR because this course is so much harder and my legs were not fresh like they were two weeks ago. I have to say that I am disappointed I did not get a PR with this race but I still think I ran a great race and I did a hell of a job. I'm very happy with my time and how it turned out. It's just hard to not be disappointed when the PR was so freaking close.
One of my friends that I talked to a couple days after the race, he said I should mark this one as a BPR*. Barf PR. haha! I like that! So we shall consider this one a PR still, but a BPR*.
comparison of the two half marathons, the one on the left is from 10/21 and the one on the right is 10/07