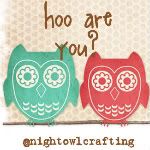 Here are this weeks questions and answers to Hoo are you? hosted by
Night Owl Crafting
. If you would like to join in on the fun, please visit their blog for the rules.
1.What was your favorite meal growing up?
I loved, and still love, toasted ravioli. Never had toasted ravioli? Head to St. Louis and get some!
2. What's your favorite month?
Hmm..this is a hard one. I want to say October because it's my birthday month and Halloween, but I do love the summer months because they are nice and warm.
3. What store is most represented in your wardrobe?
Tough! Probably The Limited since I have several pairs of their pants and tops. However there are a handful of stores I normally shop at and they could probably all tie for this one.
4. How many times do you go to the movie theater each month/year?
Previous to this year, it was only once or twice a year. However this year I've been going to the movies almost once a month with a friend.
5. Fill in the blank- I've never been able to: raise only one eyebrow at a time. It looks so cool, I wish I could, but I can't.