Last Saturday, October 9th, I participated in a 5k that benefited the Special Operations Warrior Foundation.
If you aren't aware of this foundation, here's a brief description. This specific warrior foundation benefits the Spec. Ops. soldiers and their families. It will help those who are injured in war. If the soldier is killed in action, the foundation helps their families, their children.
When I saw this 5k advertised around town I knew I had to run in it. My friend's son, Brandon, was KIA October 15, 2009 fighting for his country. For our country. For my freedom. I ran this race in his memory.
It was a small race. I was disappointed by the lack of runners, because that meant less money going towards the warrior foundation, yet I was excited because that meant I had a good chance of coming in close to the front of the pack. My husband and his brother actually came to the 5k (his brother was in town visiting and spending the day with Husband...I guess he didn't have much choice. haha). I gave Husband the camera and asked him to take some photo's. This was also Husband's first time going to a 5k, I normally do only 2 a year and when I leave the house he is always still asleep in bed. Lucky duck.
I'm in blue shorts and a blue top, making sure my nike sports band is ready to go so I can record the run.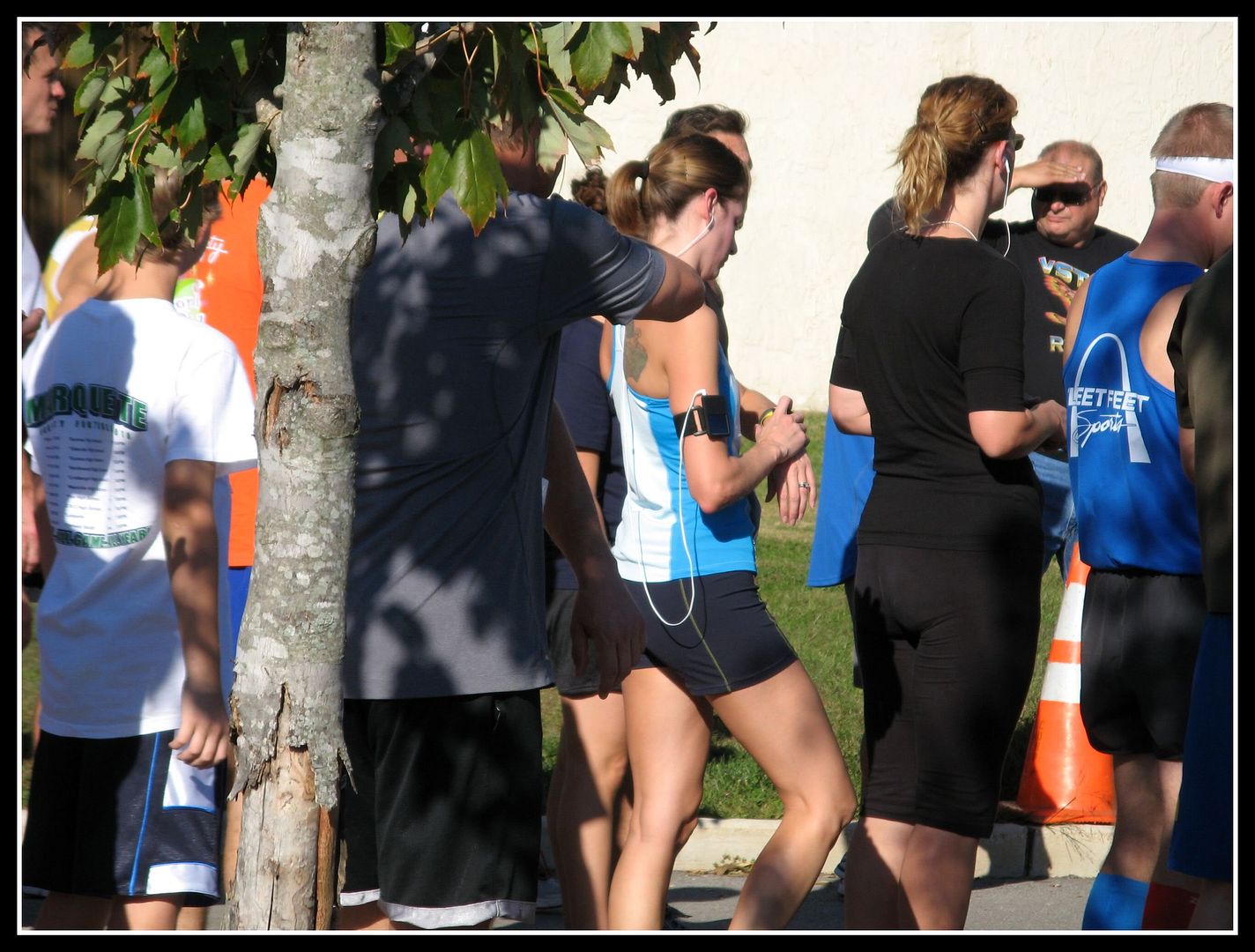 Now I'm checking my ipod, making sure my playlist is ready to start.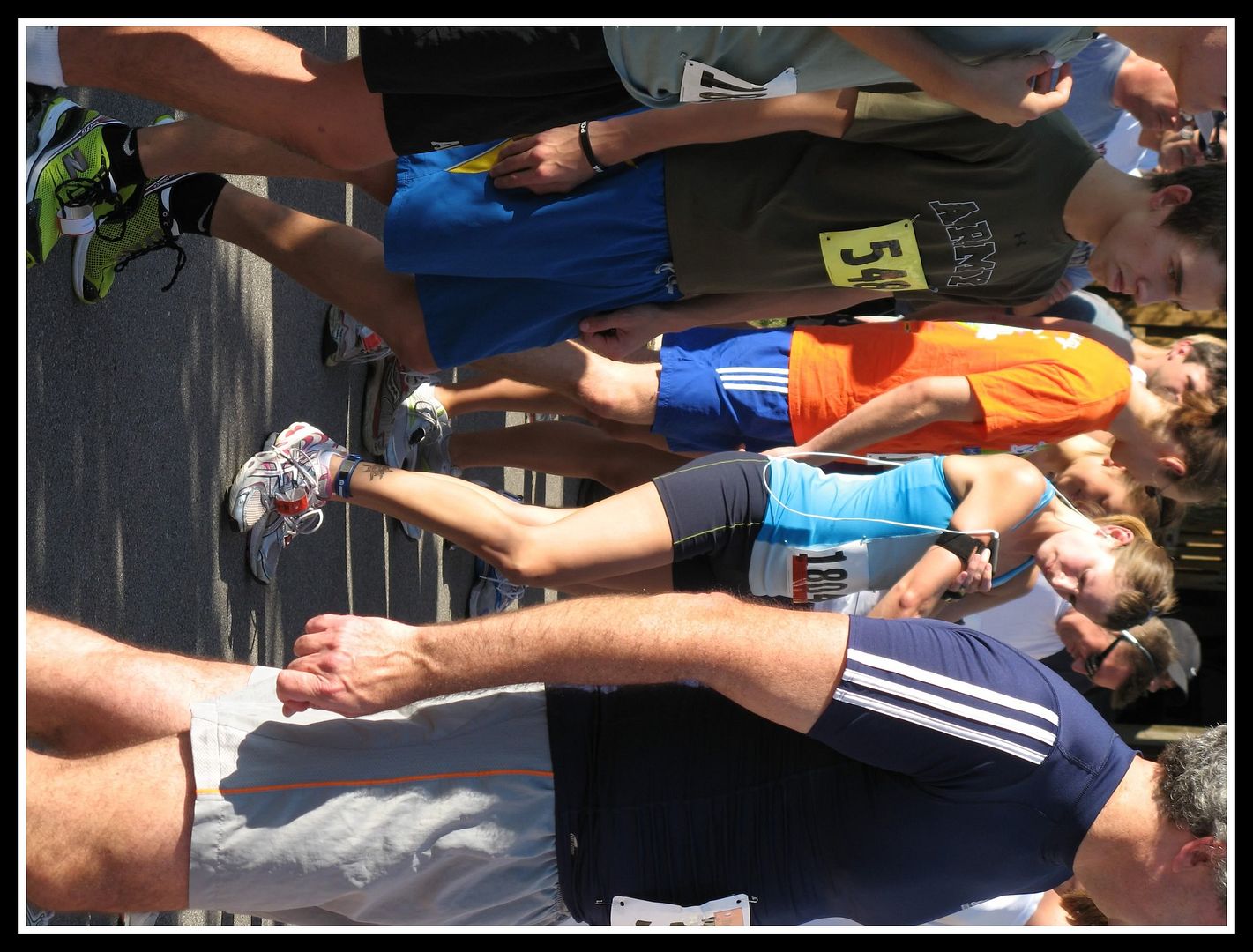 Finally the race was on, I was standing towards the front of the pack at the start and took off with them. It was myself and a bunch of guys. I quickly lagged behind them..those guys were really fast! I could tell I started out a bit faster than normal and slowed down a bit. Two girls did pass me within the first mile and I thought about catching them, but I was tired already. Soon...I was having doubts about this race. It was hot. It was humid. It was really really hilly. I started to think of slowing down even more. I kept reminding myself that I was doing this in Brandon's memory and I couldn't disappoint. I just couldn't. So I kept on going. Soon I saw the finish and while I wanted to kick it in and go faster at the very end, I just didn't have it in me.
I actually ran behind this guy almost the entire time. I passed him coming up the last set of hills right before the finish, he was able to put in the extra effort and pass me again though. Hats off to him..I tried to go faster and keep my lead but couldn't do it. (psst..don't pay attention to my bad form..that just shows how tired I was feeling since I normally have pretty good form)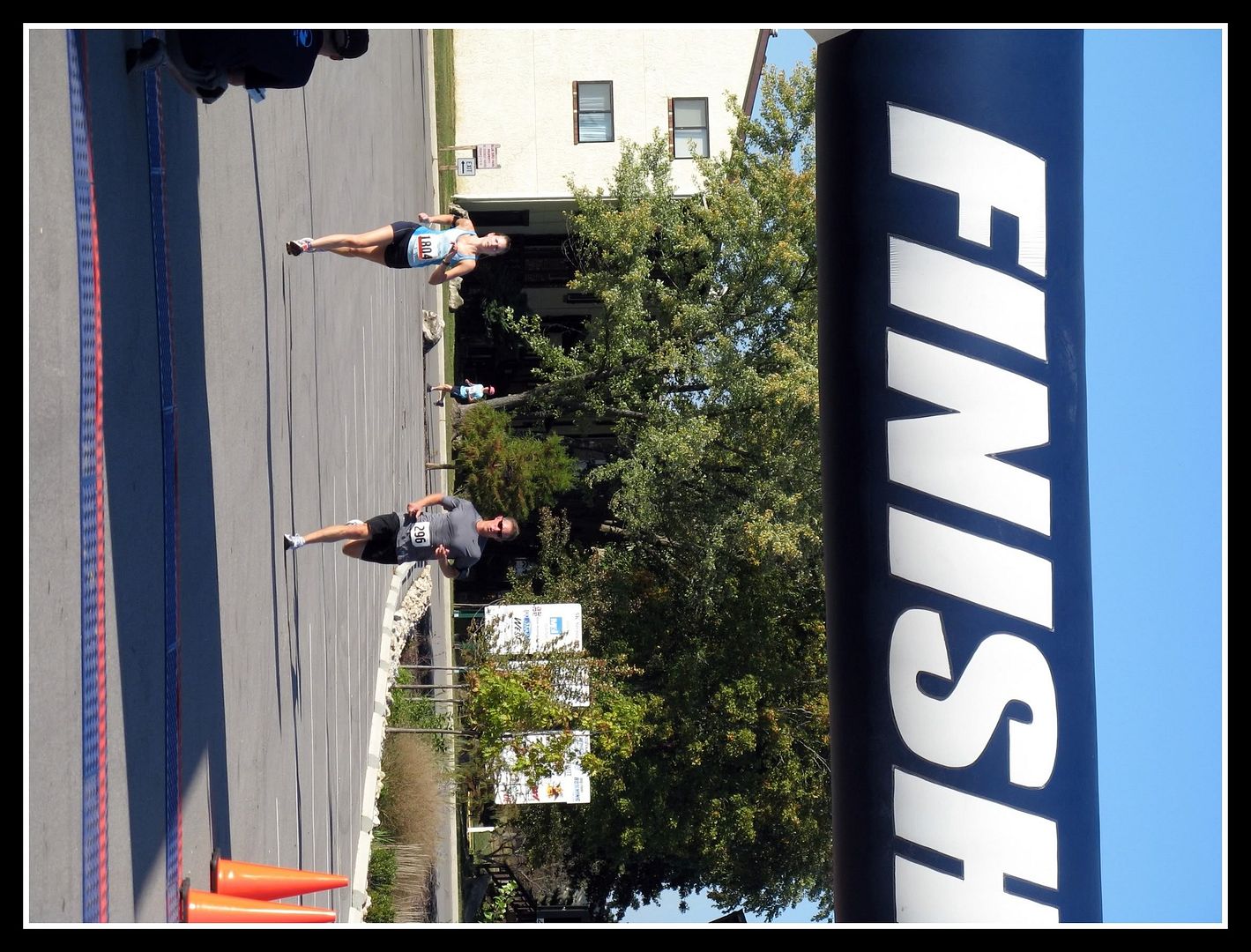 I came in with a time of 26:42. The result website shows that I had a 8:36 pace. When I crossed the finish, I saw my husband standing there and went over to him. He was surprised to see me finish so fast and hadn't expected to see me for another couple of minutes. That actually made me really happy. I then said that I thought only 2 females finished before me and he thought I was right. So we stuck around for the awards ceremony. I was giddy, up until earlier this year I had never won an award at a 5k before. I mean, I did in highschool when I ran cross-country competitively and was fast, but never since then and especially not for something like this. As it happened, I was the 3rd female to cross the line, I was the 23rd person to cross the line over-all (out of 109), and I was the 1st person in my sex/age group! I was so excited! I received an award and a $10 gift card to a local running store.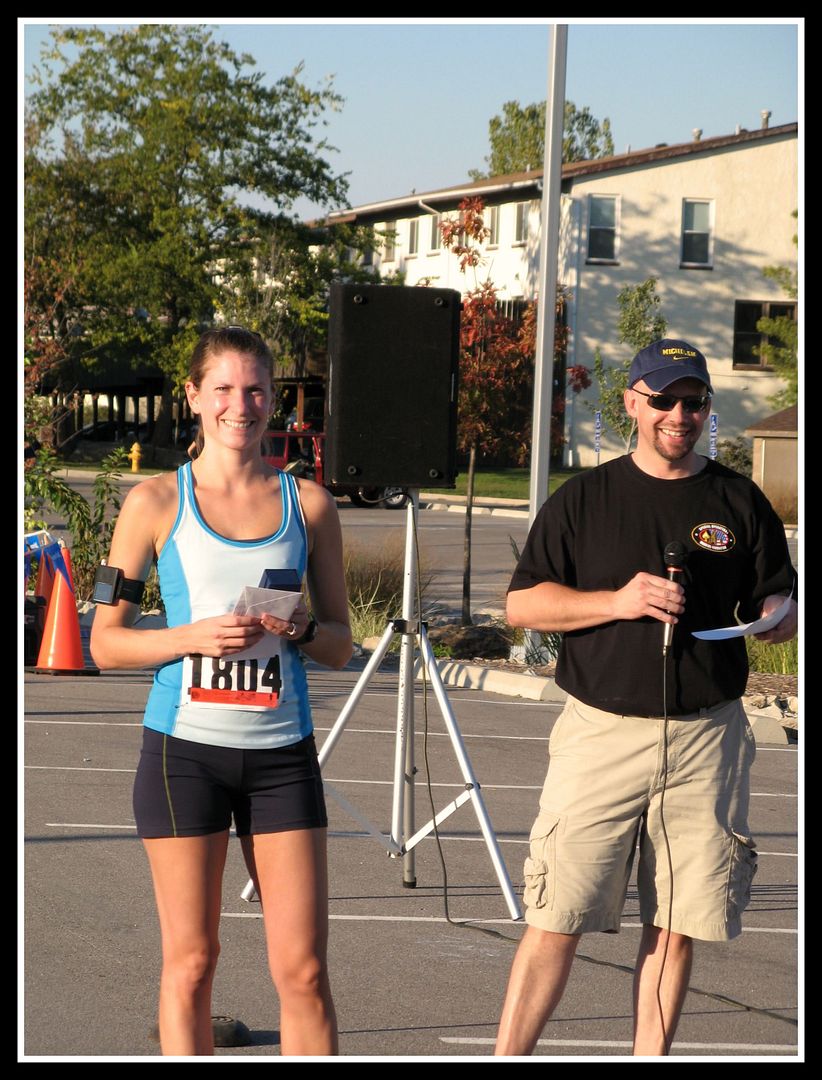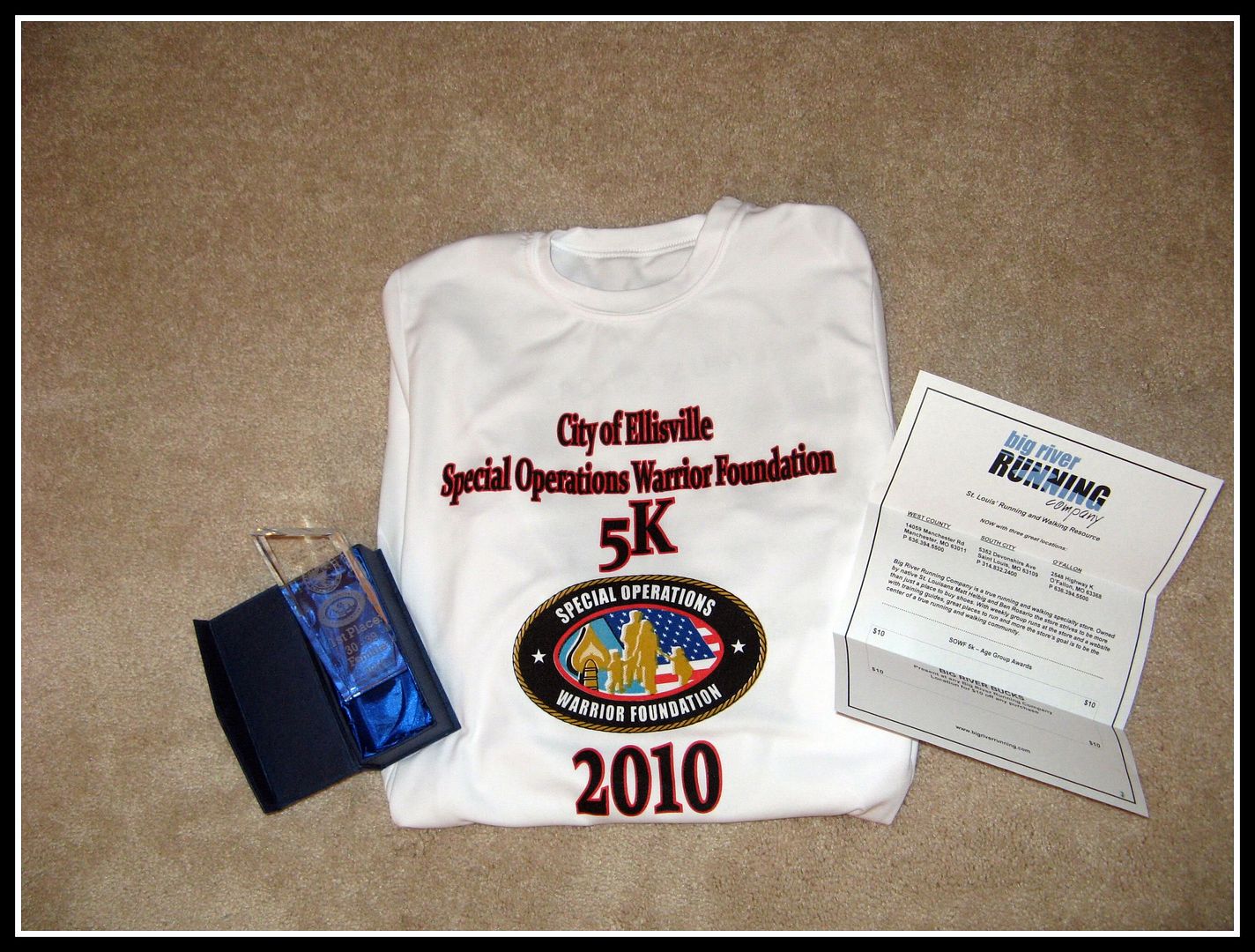 In case you couldn't tell, I'm still super excited about how well I did at this race. Up until several months ago my average pace was 9:40-9:45 min/mile. This was for a 4 mile run or less. Several months ago I started to play indoor soccer. Since then I have seen my pace get better. I was doing a 9:13-9:16 min/mile pace a couple of months ago. Then I ran a
5k
in September and ran with somebody who was averaging a faster pace and I stayed with her, and I dipped below a 9 min/mile. I think that did it for me. I realized I could run faster for at least 3 miles. I've since then been averaging an 8:43-8:46 pace for my 4 mile runs. I've also been increasing my miles for my long runs due to a 10 mile race I'm training for in November. So far I've upped my mileage from 4 to 7 and my average pace for those was 9:16-9:17 min/mile. I thought for sure I was going slower than that...but I guess not. haha!
Last picture, I promise. Myla got a bath before we left for this 5k (it was at 4pm in the afternoon) and decided to tag along to dry off and show off her clean coat. She was the life of the event too. She stood, sat, or laid down the whole time, but the kids sure did flock to her. Oh, and before you ask, nope..she doesn't run with me. Myla's idea of a long walk is less than 1 mile. And she's slow. I've never met a slower dog.